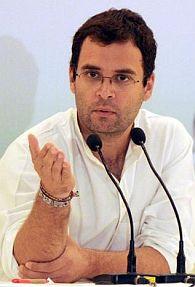 Congress Vice President Rahul Gandhi on Friday replied to the Election Commission notice over alleged model code violation with controversial remarks that Pakistan's Inter-Services Intelligence was in touch with Muzaffarnagar riot victims, denying the charge.
Gandhi's reply came in a sealed enveloped to the Chief Election Commissioner a little ahead of the 11:30 am deadline set by the poll body.
Gandhi denied violating the model code of conduct and said that he is "legally entitled to talk about his party's ideology, policies and programmes." He also argued that his Congress party's ideology was inclusive and did not leave out any community.
The Election Commission is discussing Gandhi's reply in its meeting chaired by the CEC.
The EC had issued a notice to Gandhi on October 31 for his speeches in which he had said Pakistan's ISI was in touch with Muzaffarnagar riot victims and charged the Bharatiya Janata Party with indulging in politics of hatred.
Gandhi, who was earlier asked to reply to the EC by November 4, had sought one more week's time to reply to the notice served on him.
The commission, after examining Gandhi's speeches made in Churu and Indore, had asked him to explain why action should not be initiated against him for prima facie violating the model code of conduct.
"The commission is prima facie of the view that your aforesaid speeches are violative of above-referred sub paras (1), (2) and (3) of Para 1 of the model code of conduct for political parties and candidates," the EC notice served on him had said.
Rajasthan and Madhya Pradesh are among five states, which go to assembly polls in November-December this year. The model code prescribes that "no party or candidate shall indulge in any activity which may aggravate existing
differences or create mutual hatred or cause tension between different castes and communities, religious or linguistic".
It also states that "criticism of other political parties...based on unverified allegations or distortion shall be avoided" and that "there shall be no appeal to caste or communal feelings for securing votes".