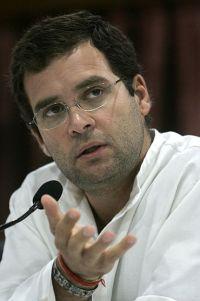 Congress vice president Rahul Gandhi on Monday joined youth from the Northeast agitating to bring to book those involved in the killing of Nido Tania, a student from Arunachal Pradesh, and promised "very strict action" apart from setting up of a committee to look into the treatment meted out to people from the region.
Asserting that "what has happened was unacceptable", Rahul, while addressing the agitators at Jantar Mantar in New Delhi, said "....You can expect a very strict action and detailed study done by a committee on the issues of north-easterners of this country. We are trying to move forward on that."
During his brief stay at the protest venue, the Congress vice-president also assured the protesters that government would ensure that they get respect and justice.
He said there was only one India for him which matters and that was the India where every single person was treated with respect, justice and treated fairly.
"There is no other India that I am interested in. I am not concerned whether you are from the North-East or any other religion, there is only one India and that India is for all of us. We will fight for this. We are going to ensure that you get respect in this country, full stop," he said.
Nido, 19, was beaten up by two shopkeepers in Lajpat Nagar on January 29 following a quarrel over his appearance. He died in a hospital the next day.
Noting that Nido represented India, Rahul said "it does not matter where he comes from, who he is and what he looks like. These things do not matter and to me only one thing matters --that he is an Indian. Because he is an Indian, he deserves justice and he is going to get it. I am here with you".
Rahul also said though a majority of the people in the country actually believe that everyone here should get respect, there were a few who do not believe in this.
Earlier in the day, Rahul Gandhi asked Home Minister Sushilkumar Shinde to order a judicial probe into the death of the student.
According to Union Minister of State for Minority Affairs Ninong Ering, Rahul asked the Home Minister to order the probe into the death of Nido Tania and provide justice to the family.
"Rahulji has called up Shindeji in front of us and requested for the probe. Since the Home Minister is out of station, he told Rahulji that he would do the needful once he is back in Delhi tomorrow," Ering, who hails from Arunachal Pradesh, told PTI here.
Ering led a delegation of students from northeast seeking Rahul's help for a speedy investigation and justice to the family.
The MoS for Minority Affairs said he along with a delegation of students would meet the Home Minister on Tuesday to press for their demands and proper security of the people of northeast living in different parts of the country, particularly in Delhi.
The Centre today directed Delhi Police to adopt zero tolerance approach in cases of attacks on people from northeast and asked it to strictly follow the guidelines in providing security to those hailing from the region.
At a high-level meeting, the Home Ministry directed Delhi Police to immediately register cases of atrocities on people of northeastern region, launch probe upon receiving complaints and book the guilty.
The Delhi High Court also took suo motu cognisance of media reports about the killing of the Arunachal Pradesh student and asked the Centre to file a report on the incident.