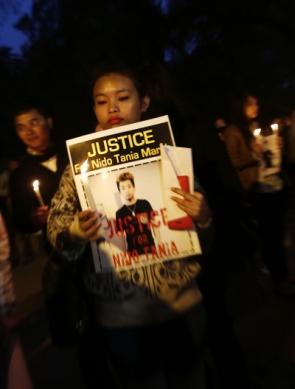 Students from the northeast on Sunday staged a candlelight vigil for Arunachal Pradesh youth Nido Tania and demanded an anti-racism law to ensure the safety of the people from the region.
Youths affiliated to various northeastern students' unions gathered at Jantar Mantar in Delhi and raised slogans to demand a speedy probe into the death of the 19-year-old.
Tania is the son of a Congress Member of Legislative Assembly from Arunachal Pradesh.
"Our demand is for an anti-racism law which will ensure the safety of all northeastern persons in the country. Also, the investigating officer in the attack case must be changed and an independent commission must be set up instead to probe the incident which should include one of Tania's family members," said Yeshi Wangchu Kharma, vice-president of the Arunachal Student Union in Delhi.
Tania died after he was allegedly beaten up by some shopkeepers on Wednesday following an altercation sparked by their taunts on his hairstyle.
J Maivio, vice president of the Naga Students' Union in Delhi, said, "This is a case of racism. Why was only he attacked? Why are only northeastern (persons) subjected to racial remarks? We will keep fighting against racism until justice is delivered."
The students' unions said that they will be sending a memorandum to the president, prime minister, home minister and to the chief ministers of all states regarding their demands.
Meanwhile, investigators have identified three more people who allegedly assaulted Tania.
According to a senior officer, several teams of Delhi police have been sent to Uttar Pradesh, Haryana and Punjab to trace the trio. Two shopkeepers have already been apprehended in this case.
Meanwhile, Tania's post-mortem report is expected on Monday.

"The post-mortem report of Tania would be out on Monday. It would reveal the exact cause of death following which we will review the FIR which has been lodged in the case," police said.
Image: Students from northeast India hold placards during a candlelight vigil in New Delhi ' Photograph: Adnan Abidi/Reuters