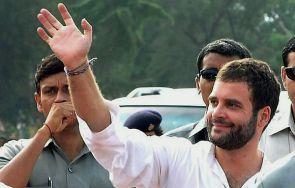 In his first formal interaction with the office-bearers of the revamped All India Congress Committee on Saturday, Congress Vice-President Rahul Gandhi said the party would be working towards giving 50 per cent representation to women in party posts.
The Congress had appointed 12 general secretaries and 44 secretaries a fortnight ago. Gandhi's comments came in the backdrop of a round of introductions by the new office-bearers. North-east in-charge Luizinho Faleiro introduced himself as representative of the "seven sisters" (seven north-east states), after which Gandhi commented: "But I see only six sisters in this room," indicating the presence of six women in the room.
Himachal Pradesh and Uttarakhand in-charge Ambika Sonia is the only woman among the 12 general-secretaries, while there are only five women among the 44 new secretaries. Gandhi said in the coming two-three years, the party would ensure that there is at least 50 percent representation of women in the AICC.
While the Congress, of late, has been highlighting the "younger looking Congress team" with 52 being the average age of the members, Gandhi said both the seniors and the young should work cohesively as a team.
According to sources, Gandhi said the earlier team, though full of hard working people, had a weakness -- the inability to work like a family. He urged the new team to work along with the seniors, seeking their guidance and advice.
Soni, who quit her Cabinet post to work for the party, joked while introducing herself that she had been working for so long with the party that some partymen might be wondering when she would retire. Senior leader and treasurer Motilal Vora was also present in the meeting on Saturday.
Gandhi also made it categorically clear to the new office bearers that those who have been given responsibility will also be held accountable for their actions.
In the past fortnight, the Congress vice-president has held one-to-one interactions with general secretaries in-charge of various states especially the poll-bound states of Madhya Pradesh, Rajasthan, Chhattisgarh and Delhi.
When the new entrants started thanking Gandhi for entrusting them with responsibility, Gandhi reportedly said, "Trust begets trust and we should trust people."