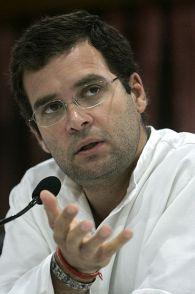 Congress Vice President Rahul Gandhi on Tuesday dissolved the Tamil Nadu Students Congress and sacked its chairman Kalaiarasan through an email order.

This has come as a rude shock to the TNCC faction led by Union Shipping Minister G K Vasan as Kalaiarasan belonged to his camp.

This new development in the Tamil Nadu Congress' internal politics will result in a crisis, according to sources close to Vasan.

"Vasan will not take this decision casually. He will fight out this email sacking," claimed a senior TNCC MP belonging to the Vasan camp.

The election process to the Tamil Nadu Students Congress was done at the instructions of Rahul Gandhi where proper ballot papers were used.
But on a complaint by the faction led by P Chidambaram and Thankgabalu -- that Kalaiarasan was not a student -- the All India Congress Committee deputed three senior observers to study the complaint.

The G K Vasan faction, which has strong organisational presence in the TNCC, recently got out of an earlier shock involving sacking of Yuvaraj, the chairman of the Tamil Nadu Youth Congress, on a complaint that Yuvaraj was involved in an alleged murder charge.
The Vasan camp then argued that there was no FIR filed, but still Yuvaraj was sacked.

The Vasan camp is now to take a major political decision to consider launching Tamil Manila Congress before the next Lok Sabha polls.
Image: Congress Vice President Rahul Gandhi