The resignation of the IPL chairman and the strong criticism of laxity in dealing with Naxal violence indicate that the Congress vice-president is not content being a political bystander any more. Anita Katyal reports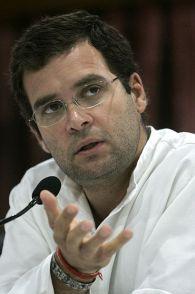 Congress Vice-President Rahul Gandhi is gradually beginning to assert himself.


Two recent developments belie the popular impression that the Nehru-Gandhi scion is a hands-off politician.


Union minister Rajeev Shukla's resignation as IPL chairman came after Rahul Gandhi literally read the riot act to him.


The Congress leader also displayed his no-nonsense approach when he recently pulled up the Chhattisgarh administration for the Naxal attack on a party convoy.


Union minister of state for Parliamentary Affairs and Planning Rajeev Shukla's resigned as IPL chairman in the wake of the raging controversy over spot-fixing in cricket only after he was told that Rahul Gandhi was unhappy with his attempts to cover up for corruption scandals in the BCCI.


The Congress leadership was particularly upset that Congress politicians were seen to be aligning with other political leaders in support of former BCCI chairman N Srinivasan who has been in the eye of a storm ever since the spot-fixing controversy hit the headlines.


The Congress vice-president sent out a clear message that he wanted party leaders to distance themselves from the latest cricketing scandal to ensure that the UPA government's reputation is not sullied.
Congress sources said Rajeev Shukla was not only reluctant to step down as IPL chairman but was also going out of his way to support BCCI chairman N Srinivasan despite the growing demand for his resignation. However, it soon became evident that Shukla's stand had not gone down well with the Congress leadership, particularly Rahul Gandhi.
The Congress vice-president's views were conveyed through public statements by Power Minister Jyotiraditya Scindia, who also heads the Madhya Pradesh Cricket Association, and Sports Minister Jitendra Singh, demanding Srinivasan's ouster.

Given their proximity to Rahul Gandhi, the message was loud and clear. Shukla promptly put in his papers as IPL chairman.
Congress insiders say this development was a clear indicator that Rahul Gandhi was not content to be a political bystander any more and that he intended to play a far more proactive role than what was expected of him initially. Although the Congress vice-president has repeatedly maintained that he wishes to focus on strengthening the party organisation, the two recent developments have also shown that Rahul Gandhi is not totally detached from government affairs.
He had taken deep interest in last year's massive Cabinet reshuffle and it was at Rahul Gandhi's insistence that younger ministers were promoted in an attempt to impart a "youthful" look to the council of ministers.
In this particular instance, the Congress vice-president moved in to ensure that the latest cricketing scandal did not further damage the UPA government, which has already been badly hit by a string of corruption charges. Rahul Gandhi is learnt to have told the younger Congress ministers that they should go all out to stave off the impression that the party is covering up for the guilty.

Besides sending out a stern warning to Shukla and other Congress leaders who are involved with sports organisations, Rahul Gandhi recently spoke tough on another occasion, although in an entirely different context.

The Congress leader apparently minced no words in lashing out at the Chhattisgarh administration when he visited the state following the Naxal attack on a party convoy.
Prime Minister Manmohan Singh and Congress President Sonia Gandhi were present at a high-level meeting where Rahul Gandhi literally put Chhattisgarh Chief Secretary Sunil Kumar on the mat for the state government's laxity in dealing with Naxal violence in the state. A visibly angry Rahul Gandhi asked the administration to explain as to who should be held responsible for the death of so many Congressmen.

Congress leaders close to Rahul Gandhi maintained that the party vice-president is proving to be a tough task master and this came through clearly in his interactions with partymen. Given his inclination to introduce a corporate style of functioning in the party, Rahul Gandhi has made it clear that he expects the rank and file to adopt a more professional approach in their work.

Although the guidelines laid down by him are often flouted, as in the case of the distribution of tickets in the recent Karnataka assembly polls, Rahul Gandhi did ensure that D KShiva Kumar was not included in the state cabinet by insisting that leaders with corruption charges be kept out. It is now to be seen if Rahul Gandhi is able to carry forward his agenda of ridding the party of corrupt elements, bringing in fresh talent and building a cadre of new committed and loyal leaders.