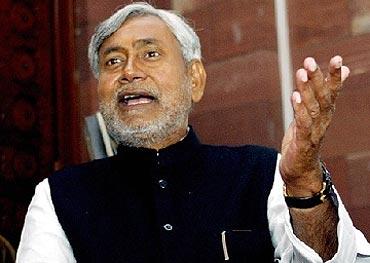 Bihar Chief Minister Nitish Kumar on Wednesday said that Union Home Minister Sushilkumar Shinde, who had accused the Rashtriya Swayamsevak Sangh and the Bharatiya Janata Party for promoting 'Hindu terror', should initiate action against them if he has facts and evidences.
"The Home minister should not talk like a leader of the Congress party by merely making serious allegations. If Shinde have facts and evidences, he should begin a probe," Nitish Kumar said.
Kumar said that if Shinde has no evidence, he should not make such statements. Shinde had on Sunday said that the BJP and its parent body, RSS, were recruiting and training Hindu militants.
Changing his stance later, Shinde clarified that he only quoted newspaper reports to point out growing incidents of saffron militancy in the country.