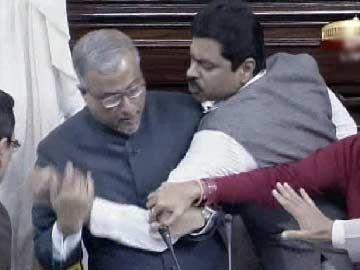 The much anticipated Telangana Bill was not taken up in the Rajya Sabha, which witnessed high drama and repeated adjournments throughout Wednesday.
The House saw Secretary General Shumsher K Sheriff being heckled by Telugu Desam Party member C M Ramesh, who was trying to snatch papers related to the Telangana Bill from him.
Ramesh and his party colleague, who are opposing the bill, stormed the Well as soon as the House met at noon after the first adjournment on the issue.
Sheriff was heckled and his spectacles almost fell off when Ramesh tried to take the papers.
Angry at the behaviour of the member, Kurien said, "This is very unfortunate. The Chair should not be attacked. Keep your hands off. What you are doing is very unfortunate."
In the post-lunch session, four bills were passed, but the Telangana Bill was not taken up and the House was adjourned for the day amid noisy scenes.
When Union minister K S Rao rose to speak on the Telangana Bill, Kurien informed him that it was not being taken up now.
"I thank the members for their cooperation, let's call it a day," he said and adjourned the House till Thursday.
Three Rajya Sabha members, including Congress leader K V P Ramchandra Rao, were standing near the Chair and carrying placards demanding an united Andhra Pradesh.
Several members from the Bharatiya Janata Party and the Left Front demanded proper discussion on the bill that aims to divide Andhra Pradesh into Telangana and Seemandhra. Some other issues were also raised, leading to a commotion, because of which the House had to be adjourned repeatedly.
Minister of State for Parliamentary Affairs Rajiv Shukla assured the House that the government was in favour of a discussion on the bill before its passage.
Earlier, Rao earned the wrath of Kurien, who said he belonged to the Lok Sabha and should behave or leave the Upper House.
The observation came when Rao was causing disturbances while opposing the Telangana Bill, passed by Lok Sabha on Tuesday amid the din, chaos and an unprecedented blackout of television coverage.
Leader of Opposition Arun Jaitley invoked rules to say the Congress minister, as a member of Lok Sabha, cannot disturb the Upper House.
Image: A videograb of the paper snatching incident