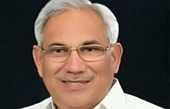 Bahujan Samaj Party leader Deepak Bharadwaj, the richest candidate in the 2009 Lok Sabha polls with assets of over Rs 600 crore, was shot dead this morning in his south Delhi farmhouse by three men who fled after the firing.
Bharadwaj was gunned down by the trio who entered his farmhouse in Rajokri at around 8:55 am on the pretext of booking the place for a marriage, Delhi Police Commissioner Neeraj Kumar told mediapersons.
The 62-year-old, who was into education, hotel and real estate business and had declared assets worth over Rs 600 crore in 2009, was killed by the men who came in a dark grey Skoda car to his Nitesh Kunj farmhouse.
Police was informed about the incident by the staff at around 9:15 am.
"They entered the place saying that that they have come for booking the place for a marriage because such functions takes place there. They went inside and started talking to Bhardwaj before shooting him twice at point-blank range," Kumar said.
He suffered bullet injuries on his chest and back and slumped bleeding heavily. He was rushed to Army's Research and ReferralHospital near Dhaula Kuan in south Delhi where he succumbed to the injuries. The post-mortem will be carried out in All India Institute of Medical Sciences.
The police have collected a video footage of the car in which the attackers came to the farmhouse located next to National Highway No 8 and used as a hospitality hub. They are also examining call detail records of Bharadwaj.
One of the motives of the murder could be property dispute. "There are many angles. Family stays away from him. His wife and son stay away from him at Dwarka. So there are many things," Kumar said when asked about his family.
Bharadwaj, a B Com degree holder, had contested the 2009 Lok Sabha elections on a BSP ticket from West Delhi constituency but lost to Congress' Mahabal Mishra. He also ran a school in Dwarka called the ShikshaBhartiPublic School.
According to the 2009 affidavit he filed with election commission, his assets of over Rs 600 crore included agricultural land worth Rs 368.22 crore in his name, his wife had land worth Rs 100.35 crore. Bharadwaj also owned buildings worth Rs 28.75 crore.
In another incident, a 25-year-old woman was shot dead and her father injured in a Metro station in east Delhi allegedly by her husband, who was fighting a divorce case.
The incident took place at the Karkardooma metro station at around 12:10 pm. The deceased has been identified as Deepti. Pawan, the accused, fled the scene after leaving the 12 bore double barrel gun at the spot.
Deepti and her father Bisham Das were entering the Metro station when Pawan allegedly opened fire. She was rushed to nearby Hedgewar hospital but was declared brought dead while Das is undergoing treatment in Deepak Memorial hospital.
Five empty cartridges and the car in which Pawan came to the spot were recovered from the spot. Several teams of investigators, including those from the crime branch, are on a hunt to arrest the killers of both Bharadwaj and Deepti