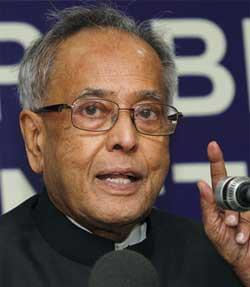 What made Congress Vice President Rahul Gandhi speak up against the ordinance introduced by the United Progressive Alliance headed by his own party -- to allow convicted legislators to contest elections -- so late in the day?
The Bharatiya Janata Party's reading of the situation, as articulated by its spokeswoman Meenakshi Lekhi, is that on Thursday night President Pranab Mukherjee raised a few questions for Union Home Minister Sushilkumar Shinde and Law Minister Kapil Sibal over the ordinance.
In politics, that is indication enough to raise doubts about the finality of getting the President's signature, believes the BJP.
President Mukherjee, informed a source in the Congress, has not indicated even once that he will return the ordinance. The source claims that the BJP's allegations are baseless.
The President surely took time to study the ordinance, brought by the Union cabinet led by Prime Minister Manmohan Singh, to ensure that convicted Members of Parliament and Members of Legislative Assembly are not immediately disqualified.
The President not only met Sibal and Shinde, he also met Parliamentary Affairs Minister Kamal Nath. He asked for a transcript of the speeches made in Parliament by political parties on the issue.
Prashant Bhushan, crusader, advocate and leader of the Aam Admi Party told rediff.com soon after meeting the President on Friday afternoon,"He did not give us any indication that he was against the ordinance, but anything is possible".
While sharing what transpired between the President and the AAP delegation, which submitted a memorandum opposing the controversial ordinance, Bhushan said, "(AAP leader) Arvind Kejriwal did mention to the President that newspapers have reported about him (President) raising questions on the ordinance. President Mukherjee responded, 'Don't go by the newspaper's report. They write many things'. So, at least in our interactions, the President didn't show any disagreement over the ordinance."
However, Bhushan dismissed the effort of Congress leader Rahul Gandhi to identify with the anti-ordinance sentiment.
Bhushan said, "Rahul Gandhi, by denouncing the ordinance so late, is trying to take charge. He must have seen the huge reaction in the country (against the ordinance). But I think he will not be able to identify with the issue of the ordinance so late in the day. Rahul will not succeed in taking credit."
Meanwhile, the source in the Congress claimed that Gandhi gate-crashing his colleague Ajay Maken's press conference was a kind of "damage control exercise", nothing more and nothing less.