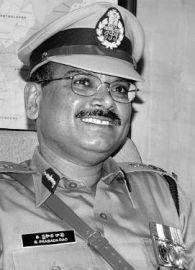 Andhra Pradesh government oN Monday appointed B Prasada Rao, an IPS officer of 1979 batch, as the Director General of Police on an ad hoc basis following retirement of incumbent V Dinesh Reddy.
Chief Secretary PK Mohanty issued a Government Order Monday afternoon placing Prasada Rao in "full additional charge" of the DGP's post "until further orders".
Though it was expected that Prasada Rao would be appointed as the regular DGP (Head of Police Force) in place of Dinesh Reddy, the government chose to make an interim arrangement to follow the "prescribed procedure" of referring a panel of names to Union Public Service Commission for making the final choice, official sources said.
"This is to avoid any legal tangle, as it happened in previous cases," sources maintained.
The state government will now forward names of eligible DGP-rank IPS officers to the UPSC from which one will be eventually appointed as the HoPF, according to sources.
"It's now a mere formality before Prasada Rao would be appointed as the regular DGP in next few days," they added.
Prasada Rao, a non-controversial officer, is currently the Director General of state Anti-Corruption Bureau.
He previously served as the Vice-Chairman and Managing Director of AP State Road Transport Corporation and Commissioner of Police of Hyderabad and Visakhapatnam.
He is currently pursuing research in Physics.
Though fourth in the order of seniority among his batchmates, Prasada Rao has reportedly been chosen by the chief minister as the former is a dalit.
"It's after a gap of many years that we will have a dalit as top cop in the state," government sources said.
Prasada Rao could continue as DGP till end of September 2015 when he retires from service.
While one of his senior batchmates Ashok Prasad is currently the DGP of Jammu and Kashmir, another Aruna Bahuguna is on Central deputation.
According to sources, though Tarini Prasad Das, another senior batchmate of Rao, is in state service, as Principal Secretary (Home), he does not find favour with the powers that be. But, Bahuguna could still fancy a chance to become DGP when she returns to the state as she still has service till February 2017, government sources say.
Syed Anwarul Huda, also of the 1979 batch ranking just below Prasada Rao, also stands a chance may be at a later date as he reaches the age of superannuation in July 2017, sources added.
The AP High Court yesterday had dismissed a plea by DGP V Dinesh Reddy against the Central Administrative Tribunal's decision denying him interim relief to continue in the post until September 2014.
Based on a complaint filed by senior IPS Officer Umesh Kumar, the Supreme Court had ordered a CBI probe against Reddy for allegedly amassing disproportionate assets along with his wife on September 6.
Earlier, Reddy had moved the AP High Court against the CAT's decision denying him interim relief after he challenged the AP government move not to extend his services in the wake of a CBI inquiry pending against him for allegedly amassing assets disproportionate to his known sources of income.