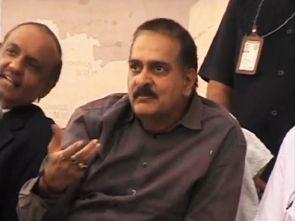 The beleaguered chief of Andhra Pradesh Police V Dinesh Reddy appears to be descending into deeper trouble. The Central Bureau of Investigation on Wednesday formally launched its probe into his alleged disproportionate assets following a Supreme Court order.
A two judge bench of the Supreme Court had ordered the CBI a fortnight ago to submit a preliminary report into Dinesh Reddy's assets in four weeks.
The court had passed the orders on a writ petition filed by another senior IPS officer Umesh Kumar. The two officers were at loggerheads ever since Dinesh Reddy was appointed as director general of police on June 30, 2011, superseding five other senior officers.
While one of them Gautam Kumar challenged the decision before the Central Administrative Tribunal, sparking off a prolonged legal battle, another officer Umesh Kumar's battle with him took a nasty turn.
It all started when a letter purportedly written by a Congress member of Rajya Sabha M A Khan came to light. Addressed to the Union Home Ministry the letter opposed the appointment of Dinesh Reddy as DGP citing charges of corruption.
But after the MP denied having written the letter, the case was handed over to the CID for probe and Dinesh Reddy alleged that Umesh Kumar's was behind the letter.
A case of forgery and corruption was booked against Umesh Kumar. Umesh Kumar went into hiding after a non bailable warrant was issued against him by a lower court. Consequently, he was suspended from service. The case remains pending against Umesh Kumar.
The appointment of Dinesh Reddy was set aside by the CAT in June 2012. It was later upheld by the high court. But the state government again appointed him by resending his name in a panel of three IPS officers from the state to the Union Home Ministry. It is understood that Chief Minister N Kiran Kumar Reddy used his good offices to get him restored. This time the appointment was for a term of two years ending in September 2014, though his age of superannuation was in September 2013.
This love of the Chief Minister for Dinesh Reddy remains inexplicable and has left the other IPS officer bewildered.
Dinesh Reddy is now facing CBI inquiry into his assets at a time when he is lobbying with the state government to extend his term for one more year. Dinesh is also finding himself at loggerheads with the media over reports about his recent visit to the residence of a controversial godman in the old city.