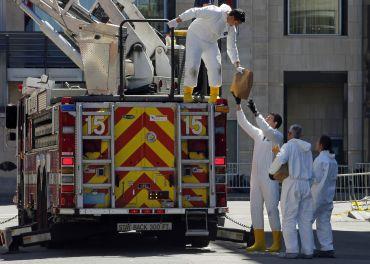 Investigators appear to have spotted a possible suspect in the Boston Marathon bombings through footage from surveillance videos that shows the individual allegedly carrying and planting the bomb near the finish line of the popular sporting event.
A report in the 'Boston Globe' quoted an official briefed on the bombing investigation as saying that authorities have an image of a suspect carrying, and perhaps dropping, a black bag at the second bombing scene on the route of the marathon in the heart of the city.
US investigators are "very close" in the investigation, the official added.
Investigators say a surveillance camera located at a huge luxury store directly across the street from the location of the blast provides a clear video of the area.
The camera from the luxury store is the "best source of video so far," said Dot Joyce, a spokeswoman for Boston Mayor Thomas M Menino.
Two bombs ripped through the crowds and runners at the Boston Marathon, killing three persons and injuring over 180.
As the investigation into the bombing entered its third day, conflicting reports emerged about the suspect being identified and arrested.
The FBI and Boston police have denied media reports that an arrest in the case has been made and have cautioned the news media to be cautious in their coverage of the blasts.
Investigators have found a piece of lid of one of the pressure cookers believed to have been used as the explosive device on a rooftop near the blast.
One of the two bombs that exploded near the finish line of the Boston Marathon is believed to have been hidden in a pressure cooker inside a backpack, the FBI said in a joint intelligence bulletin.
Image: Investigators lower an evidence bag collected from a roof top near the site of two explosions at the finish line of the Boston Marathon in Boston.
Photograph: Brian Snyder/Reuters