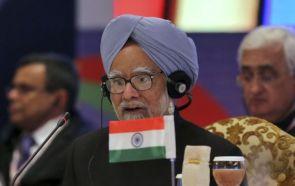 An unfazed Prime Minister Manmohan Singh today ruled out his resignation over Rahul Gandhi's carping criticism on the ordinance to protect convicted lawmakers but appeared piqued over the manner in which it was done.
Singh also indicated that the government could have a rethink on the ordinance when he said that he would discuss the issue with Rahul, who wanted its withdrawal. "It is always possible to change one's mind."
"There is no no question of resigning," Singh said, rejecting Opposition demands and taunts that he give up the post after Rahul's attack that the ordinance was "complete nonsense" which should be torn up and thrown away.
Though he maintained that he does not get "upset easily", the prime minister said he would try to find out the reason why Rahul made a public statement and "why it had to be done that way".
"I am not the master of what people say. It has happened and as I said when I go back I will try to find the reason why it happened that way and how do we handle it," he told journalists accompanying him on board the special aircraft on his way back home from the US after a week-long visit.
Rahul is meeting the prime minister on Wednesday morning. The Congress Core Group is also scheduled to meet tomorrow and will be followed by Singh having a meeting with President Pranab Mukherjee, who is leaving on a foreign tour in the afternoon. The Union Cabinet is also scheduled to meet during the day.
READ: Preliminary Transcript of PM's Onboard Press Conference