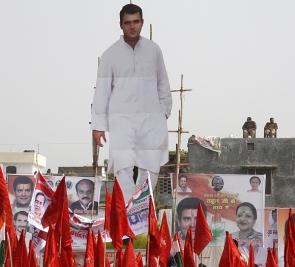 We suffered worse political degradation during the Emergency. But we emerged resurgent and vigorous because the spirit was not broken. This time around, we face an imminent threat to it, says Shreekant Sambrani
The Congress vice-president strongly denounced last week the Ordinance to temper the Supreme Court judgment disqualifying convicted legislators. His party hailed it as correct and in keeping with democratic process. That is quite true. Some questions: if the compromise underlying the Ordinance was wrong on September 27, it was wrong also when the Bill embodying it was introduced in Parliament, when it was approved by the Congress core group and the Cabinet and when it was presented for presidential assent. It could have been stopped at any of these stages, but was not. Never mind the cynical view that doing so then would not have heralded the knight in shining armour.
Montesquieu, the great 18th century French liberal thinker and the earliest proponent of democracy, posited that a system of checks and balances and separation of powers lay at its heart. Our democracy also works that way. A leader who admits to being "parachuted" into his position (through dynastic primogeniture) checks, and the constitutional government of the day balances itself precariously on a tightrope between public revulsion and political compulsion. As Dr Sanjaya Baru put it pithily, the separation is between power with the party and responsibility (and attendant criticism) with the government.
These are not contradictions; they come naturally to the leader who denounced power as poison after his anointment as heir to the party leadership earlier in the year, but has now downed the whole chalice of hemlock in one gulp in full public glare with unbecoming willingness.
On August 30, Dr Manmohan Singh said in the Rajya Sabha "I command a certain status, certain prestige, certain standing [in the comity of nations]." One could quibble about the tense, but not the truth or anguish behind that statement. A professional reputation earned over a lifetime being questioned even by news anchors who cannot spell out gross domestic product and political opponents, led to that lament. But it now seems more appropriate that it should be directed at his own party and its leadership that has pulled the rug from under his feet at the fag end of his career, notwithstanding the perfunctory placatory sentiments of the last two days.
All politicians stand discredited as never before. This is not necessarily undeserved or unwelcome. But in the bargain the entire political process is devalued and rendered beyond repair. Our trust deficit has rapidly worsened in the last three years and now exceeds that of even Pakistan.
A spurious and entirely unenlightening debate pitting development versus inclusiveness informs our dialogue nightly. The Congress vice-president proudly proclaims that his party has conferred rights on Indians. That may be expected from one who thinks poverty is a state of mind, but it smacks of Bourbon condescension to the hoi polloi. It cannot be a part of any democratic discourse, but is of a piece with the continuing debasement of all democratic institutions.
Evan Bayh was a highly popular and respected Democratic senator from the normally Republican state of Indiana between 1999 and 2011. He declined to run for a third term, because he felt that "there is too much partisanship and not enough progress -- too much narrow ideology and not enough practical problem-solving. Even at a time of enormous challenge, the people's business is not being done." That would be an apt summation of the relationships among all our political parties today. They appeal to the base instincts of the masses. Oratory inflames passions instead of kindling hope and commitment.
We have suffered worse political degradation in Indira Gandhi's Emergency. But we emerged resurgent and vigorous because the spirit was not broken. This time around, we face an imminent threat to it. Aspiration has been universally acclaimed as the engine that drove India in the recent past. It is now being eclipsed by growing anxieties.
The damage done to the economy in the last five years (in my view, closer to nine) has been extensively commented upon. Dark clouds now loom on our collective psyche. The findings of the Pew Research Centre survey in 2012 showcase an India in a decidedly blue funk about its economy. Three out of five respondents were unhappy with the country's economic direction, whereas over 80 per cent of Chinese surveyed in the same period expressed confidence in their economy. A more worrisome factor is the prognosis for the future. Two-thirds of Indians said that they were better off than their parents, but did not expect their children to do as well.
I can vouch for this through my own example. I started my career at Indian Institute of Management, Ahmedabad in 1971, taking home Rs 1,050 a month. We did not stint on any necessities, or discretionary expenses on films, eating out, travels, books and clothes or personal transport.
The 1970s oil shock and hyper-inflation were accompanied by higher incomes, requiring no compromise on the living standards. Things started changing in 2005, with the rising inflation. Unlike earlier, when I bought the best quality produce, I now check prices first and decide how much and what to buy, often settling for the second best. Almost all discretionary consumption and travel are memories fast fading. These downward adjustments have little to do with getting older.
I suspect this is the reality of most supposedly upper middle-class Indians without inflation-indexed incomes. The plight of those who have to make do with much lower earnings is of piling on the agony. Even-paced life filled with a sense of well-being and cautious optimism has given way to fear and near despair about the future in less than a decade.
The famed Indian entrepreneurship and innovation ability is now channelled into jugaad, the art of compromise. Those who can, prefer to invest abroad, shunning India as too uncertain.
Foreigners are deterred by retrospective tax regimes and unending red-tape, things that were not supposed to happen in the 21st century globalised India. India, once poised Prometheus-like to leap to double-digit growth now stares at the lower depths gasping to reach 5 per cent.
Erik Eriksen's seminal opus, Gandhi's Truth (1969) traced the Mahatma's progression to militant non-violence. India is now discovering the truth of its current Gandhis' militant debasement of institutions and aspirations.
The author taught at the Indian Institute of Management, Ahmedabad, and helped set up the Institute of Rural Management, Anand