In the presence of NDA ministers and chief ministers, the 71-year-old filed his papers from the July 17 elections.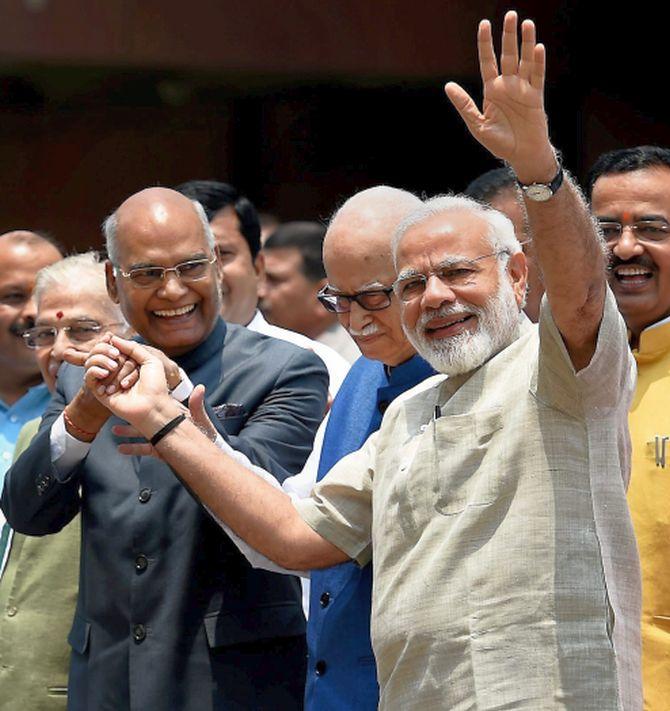 IMAGE: NDA's presidential candidate Ram Nath Kovind with Prime Minister Narendra Modi after filing his nomation papers. Photograph: Vijay Verma/PTI Photo
National Democratic Alliance presidential nominee Ram Nath Kovind on Friday said the post of president is above party politics and he will strive to maintain its dignity.
The 71-year-old said after filing his nomination papers that he had ceased to belong to any political party after he became governor of Bihar in 2015.
"Ever since I became governor, I don't belong to any political party. The post of president is above party politics. I am thankful to everybody for their support," he told reporters.
Prime Minister Narendra Modi and a battery of NDA chief ministers and party leaders accompanied Kovind as he filed his papers for the July 17 presidential election in which his victory appears to be almost certain.
"I will do my best to maintain dignity of the high office of the president," he said.
He named several former presidents to cite the 'great traditions' of the office and stressed the Constitution was supreme in the country.
"That its supremacy is maintained is very important," he added.
Underlining his agenda, he said he would work for the country's 'all-round development, fulfilment of youths' aspirations and encouragement to modern education'.
"I will strive to see to it that the dream to build a new India which is developing continuously when we celebrate 75 years of independence in 2022 is fulfilled," he said, reading out from a prepared text.
In a reference to the country's security, he noted that the president was the supreme commander of the armed forces.
"The security of our country's borders should be our top priority," he said.
India is the 'largest and greatest' democracy, he said as he thanked parties that had supported his candidature.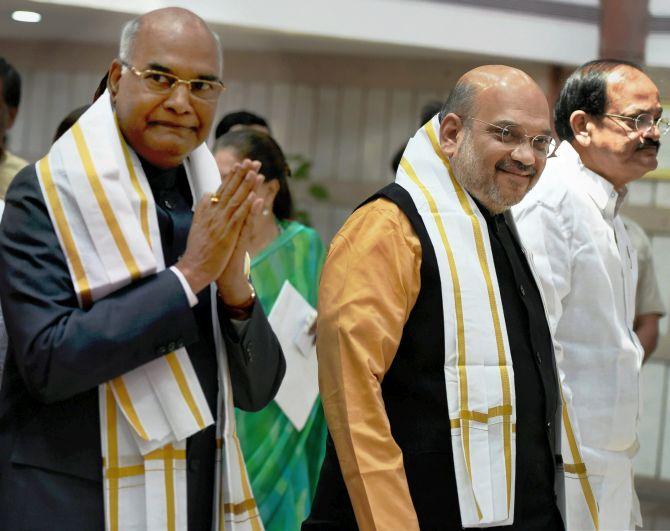 IMAGE: A large battery of NDA ministers and BJP leaders, including party president Amit Shah accompanied Kovind for the occasion. Photograph: Vijay Verma/PTI Photo
Bharatiya Janata Party president Amit Shah and party veterans L K Advani and Murli Manohar Joshi were present on the occasion as were all chief ministers of BJP-ruled states and its allies, except Manohar Parrikar of Goa and Mehbooba Mufti of Jammu and Kashmir.
Telangana Chief Minister K Chandrashekar Rao and Tamil Nadu Chief Minister Edappadi K Palaniswami also attended the event.
Besides NDA constituents, which comprise over 48.6 per cent of votes in the electoral college that will elect the next president, regional parties such as the All India Anna Dravida Munnetra Kazhagam, Biju Janata Dal, Telangana Rashtra Samithi and Janata Dal-United have also announced their support to the Dalit leader, making his win a foregone conclusion unless there's a drastic change in the situation.
With the support of these parties, Kovind is set to get more than 61 per cent of votes in the electoral college.
A group of opposition parties had on Thursday announced that former Speaker Meira Kumar, also a Dalit leader, would be their joint candidate against Kovind.
The election is scheduled for July 17 and the counting of votes will take place on July 20.
The term of President Pranab Mukherjee ends on July 24.
Once elected, Kovind will be the second Dalit to occupy the highest constitutional office. The first was K R Narayanan, who was in the Rashtrapati Bhavan in 1997-2002.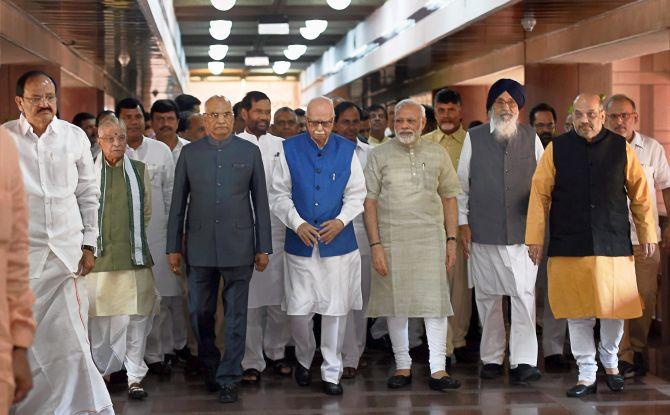 IMAGE: The filing of papers was a show of power and unity by the BJP with all its leaders, including veterans LK Advani and Murli Manohar Joshi showing up. Photograph: Subhav Shukla/PTI Photo
A low-profile Dalit leader who held various organisational positions in the BJP, Kovind, 71, was made the Bihar Governor in 2015 after the NDA came to power in May 2014.
The name of the two-term Rajya Sabha member did not figure among the probables but his nomination by the BJP is now being seen as a "political masterstroke".
He enjoys a clean reputation and has steered clear of any controversy in his over 26-year-old political career. His Dalit background makes him a sound political choice for the saffron party working overtime to woo Dalits.
Meira's candidature an opposition ploy to divide Dalits: Adityanath
Uttar Pradesh Chief Minister Yogi Adityanath said on Friday that the opposition parties fielded Meira Kumar as their presidential candidate to divide Dalits to 'save their skin'.
Only after Prime Minister Narendra Modi and BJP president Amit Shah picked Ram Nath Kovind, a Dalit, as the NDA's presidential candidate, the Congress decided to field Kumar, Adityanath told reporters after Kovind filed his nomination papers.
"Intentions of the opposition are not honest towards Dalits, otherwise they would had fielded Kumar last time," Adityanath said.
The opposition parties have fielded her only to divide Dalits in the country, he added.
Echoing the UP chief minister's views, senior BJP leader Sushil Kumar Modi said that opposition parties have made Kumar a "scapegoat" by naming her as the Opposition's presidential candidate.
"They thought about Dalits for the top post only after the BJP announced Kovindji as presidential candidate. And why didn't Congress nominate her last time when it was in a position to get her elected to the highest office," Modi said.
Praising the choice of the NDA, Jharkhand Chief Minister Raghubar Das expressed confidence that Kovind would be victorious.
Haryana Chief Minister Manohar Lal Khattar described the BJP's choice for the top constitutional post as a step towards empowering the lower sections of society.
Speaking highly about Kovind, Union minister Uma Bharti said Kovind was a successful MP and a committed worker towards social causes.