Defence Minister Nirmala Sitharaman on Monday visited cyclone-hit Kerala and assured the state of all help while asserting that rescue operations would continue till every missing fishermen was brought back safely.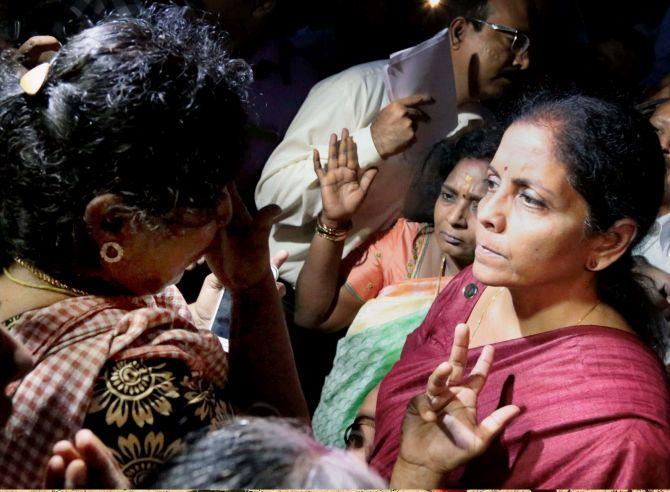 IMAGE: Defence Minister Nirmala Sitharaman meets with the people affected by Cyclone Ockhi in the flood-hit Kanyakumari district. Photograph: PTI Photo
A total of 20 fishermen from the state were rescued by navy on Monday while the toll in rain-related incidents in the aftermath of 'Ochki' cyclone was officially put at 25.
Sitharaman gave the assurance at a meeting with Chief Minister Pinarayi Vijayan after visiting some areas hit by the natural calamity in the district, a CMO release said.
Her meeting came even as naval ships, helicopters, Coast Guard vessels and Air Force planes continued to be engaged in the rescue and relief operations to track down the 100 odd fishermen, reported missing after the cyclone tore into the state's south coast on November 30.
The toll in the rain-related incidents was put at 25 by the state government. Of this, twelve bodies were yet to be identified. Eleven of the deceased were from Thiruvanathapuram district while the other belonged to Kollam, officials said.
A navy ship located a fishing boat with nine crew members, missing from Kochi for the last 15 days, off Lakshadweep coast while 11 fishermen, who put out to sea from Thiruvananthapuram, were brought back to the shore at Kochi, they said.
During the meeting with Sitharaman, Vijayan requested for generous help by the Centre for relief works considering the gravity of the situation if there was any technical hurdle to declare 'Ockhi' cyclone as a national disaster.
He also sought financial assistance for implementing long-term rehabilitation schemes for the affected fishermen.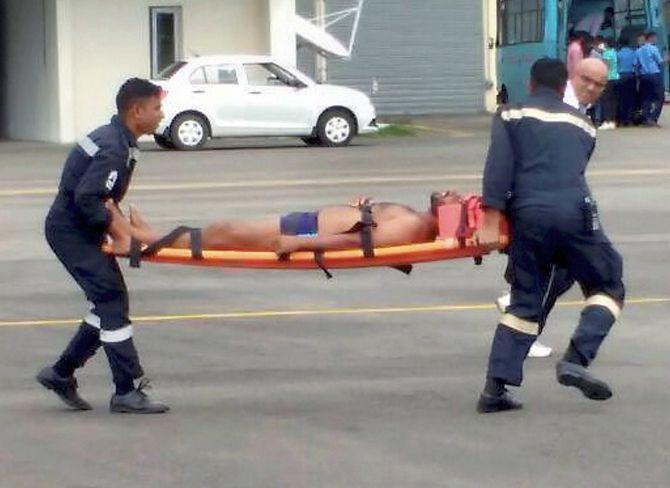 IMAGE: Stranded fisherman being brought to Kerala coast by Indain Navy personnel, in Kochi. Photograph: PTI Photo
The defence minister wanted the state to prepare a detailed memorandum and send it to the Centre, the CMO release said.
Earlier, talking to reporters, Sitharaman said "Search and rescue operations will continue… There will not be any dilution of operations."
"We want to make sure that each and every fishermen who had gone from Kerala comes back safely," she said.
She visited Vizhinjam and Poonthura fishing hamlets, from where most of the fishermen have been reported missing.
"They (fishing community) are in deep distress... I can see it," she said.
Sitharaman said fishermen who had gone much before the cyclone warning, probably 15 days ago, had been spotted in the sea and given food and water.
"So I will not lose hope even for a minute. If boats that had gone 15 days ago had come back with fishermen alive, we will make every attempt to bring everybody back," she said.
The fishermen's demand for including some of their men in the rescue team had been accepted and already 11 of them have joined the navy boats and helicopters engaged in the operations, she added.
"This is the time to keep my focus on rescue operations," she said replying to a question.
The minister addressed the fishermen both at Vizhinjam and Poonthura, assuring them that there would be no laxity in the search operations.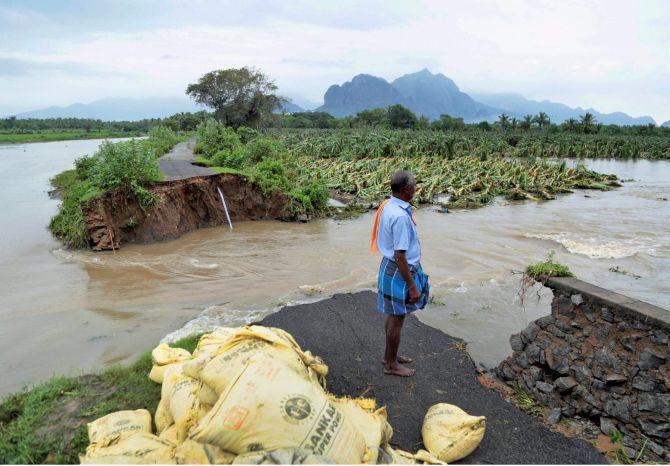 IMAGE: A man watches a road that has been cut off due to floods following the heavy rainfall caused by the cyclone Ockhi which has caused heavy damage in Kanyakumari. Photograph: PTI Photo
It was an emotionally charged atmosphere at the two fishing villages as women wailing and weeping for the safe return of their husbands and brothers came together to hear the minister, while the men folk raised slogans.
"I speak with folded hands...Please listen to me peacefully...The warning was given on November 29...We started search operations from November 30...The Navy, Coast Guard and Air Force began their work. Many people were saved," she said.
"Many people have come back to their families... We have not stopped the search operations," she said, adding war ships were also being engaged in the mission.
So much efforts, not even witnessed when the tsunami had hit the Indian coast, were being taken now, the minister, who arrived here from Kanyakumari on Monday morning, said.
State Fisheries minister, Mercykutty and Devaswom minister, Kadakampally Surendran accompanied Sitharaman.
However, the local fishermen alleged that there was lack of coordination in rescue operations and staged protests in some places.
Pastor of a local church at Vizhinjam said the search operations should continue intensively and the compensation should be disbursed by state and central governments in a time-bound manner.
In a tweet on Sunday, Sitharaman had said nearly 390 fishermen from the state had been rescued by the Navy, the Air Force, Coast Guard and merchant vessels.