For nearly three months, the "Fearless Girl" statue stared down the "Charging Bull," at Wall Street in New York City, an iconic, 11-foot, three-ton monument to "peace, strength, power and love,"" according to the artist.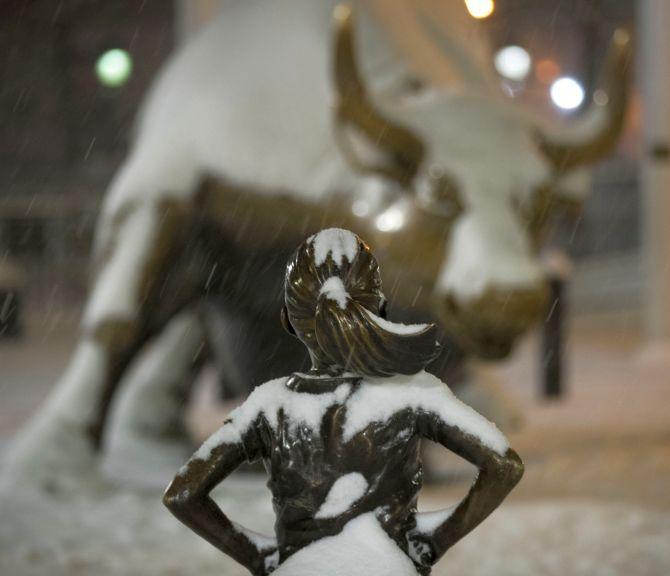 IMAGE: The 'Fearless Girl' statue stands in the snow facing off against the Charging Bull in the Financial District, New York City. Photograph: Drew Angerer/Getty Images
However, New York artist Alex Gardega decided he'd had enough.
The artist installed Pissing Pug, alternatively known as Sketchy Dog -- a small sculpture of a urinating dog – at the leg of the 'Fearless Girl' statue as an act of defiance.
According to Gardega, who was quickly branded a "snowflake," a "misogynist", said, "The Fearless Girl has nothing to do with feminism, and it is disrespect to the artist that made the bull ... That bull had integrity."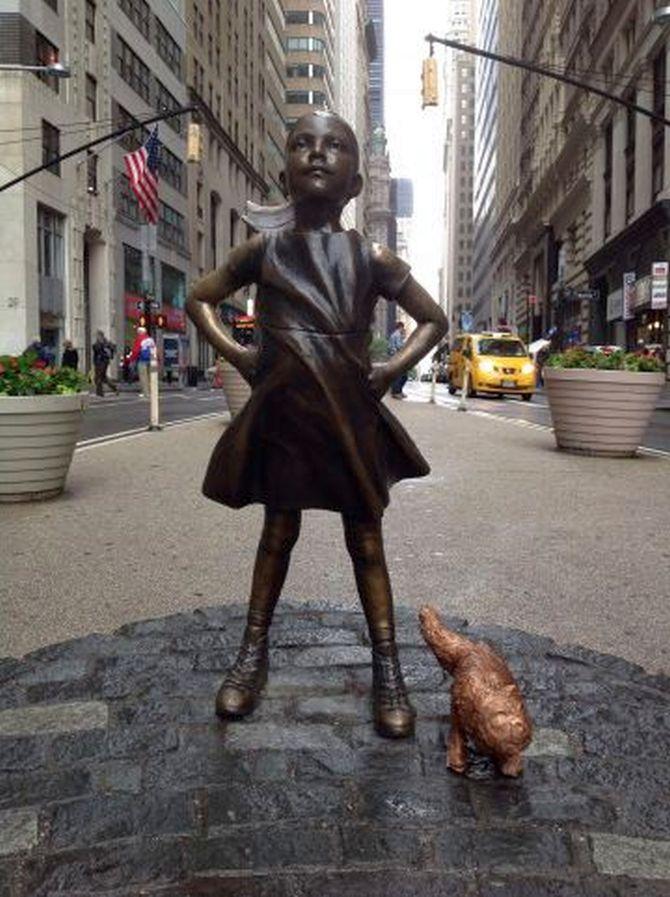 IMAGE: Alex Gardega said his 'Pissing Pug' was an act of defiance against Fearless Girl, who he pegged as 'corporate nonsense'. Photograph: Alex Gardega/Twitter
He referred to it as "corporate nonsense" that was masquerading as art but was in fact commissioned by State Street Global Advisors, one of the world's largest banks. "It was made by a billion-dollar financial firm trying to promote an index fund," he was quoted as saying to NBC News. "It is advertising/promotion in the guise of art. That was my only point."
Gardega was soon attacked on social media with one Twitter user writing, "Nice try, Alex Gardega. Forget artistic integrity. If you put a statue of a dog peeing on a little girl, you're a huge a*****e."
Another wrote, "I can't think of a better metaphor for male fragility than a tiny little dog attempting to piss near a fearless girl."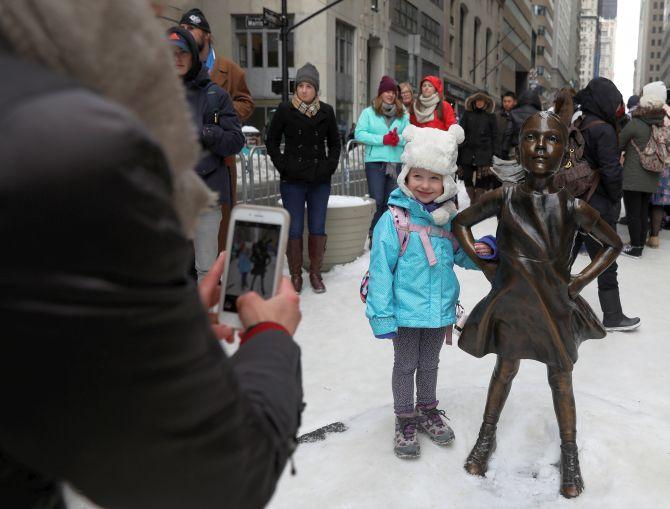 IMAGE: Fearless Girl made by American artist Kristen Visbal was inaugurated earlier this year on International Women's Day as part of a campaign by US fund manager State Street to push companies to put women on their boards. Photograph: Shannon Stapleton/Reuters
"Fearless Girl" has become a tourist fixture in Lower Manhattan, with more than 25,000 Instagram photos tagged #fearlessgirl. New York Mayor Bill de Blasio is allowing the temporary statue to remain in Bowling GreenPark until February 2018.
Arturo Di Modica, the bull's creator, said last month that he considers 'Fearless Girl' an "advertising trick" that alters the creative message of his legendary work by implying that the two statues are locked in a conflicted face-off.