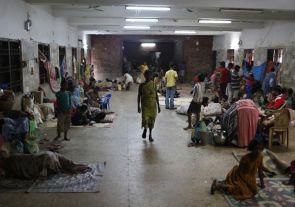 Cyclone Phailin hit the Indian coast, a little south of Gopalpur in Odisha, between 8.30 and 9 pm on Saturday at a windspeed of 200 kilometres per hour, Indian Meteorological Department officials said in New Delhi.
The 'eye' or centre of the cyclone is estimated to be 15 km in spread so it will take nearly an hour to cross the coast completely, officials said adding that the impact of the storm will be maximum for the next six hours.
"The intensity of the storm is likely to continue for six hours, that is, until Sunday morning. The eye of the cyclone is approximately 15 km, which means it will take around one hour to cross the coast," said L S Rathore, Director General (metrology) of IMD.
The cyclone made its landfall at a windspeed of 200 km per hour. The intensity will not reduce as of now but could go up to 210 to 220 km per hour as earlier predicted, he added.
He reiterated that the cyclone is not a super cyclone and the intensity level has been found to be of level 6. He said that a super cyclone of level 7 had been witnessed by Odisha in the year 1999.
The official further said that the areas likely to suffer maximum damage are the stretch between Kalingaptam and Paradip while adding that Gopalpur will be the epicentre.
"The very severe cyclonic storm will after six hours turn into cyclonic storm and then deep depression," Rathore said.
As per IMD data, the rainfall received in Bhubaneswar from 8.30 am to 8.30 pm was 130 mm, while Gopalpur received 78 mm and Puri 81 mm.
Photograph: Adnan Abidi/Reuters