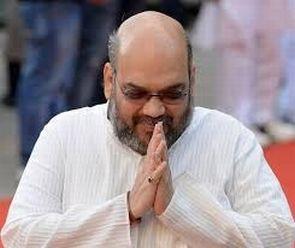 In what could spell more trouble for BJP leader Amit Shah, the Central Bureau of Investigation has, along with the charge sheet in Ishrat Jahan fake encounter case, submitted a pen drive containing telephonic talk allegedly between an accused police officer and the former Gujarat Minister of State for Home.
One of the accused police officers, suspended IPS officer G L Singhal, had given two pen drives to CBI, including one in which he had 'secretly' recorded conversation between him and Shah.
"G L Singhal informed that these files contain telephonic conversation between him and Amit Shah, then MoS (Home), Gujarat state in the month of August and September 2009 relating to misuse of the police for extra legal purposes...," the CBI charge sheet states.
CBI had recorded 'panchnama' (recovery document) of the pen drive before taking it into possession. The agency's statement is the part of the panchnama. The contents of alleged conversation between the two have not been revealed in the charge sheet.
Singhal had been charge sheeted by CBI for murder and conspiracy in the alleged fake encounter of 19-year-old Ishrat and three others on June 15, 2004. He is out on bail now as the CBI failed to file the charge sheet in the stipulated 90 days of his arrest.
Shah is charge sheeted in other encounter cases of Sohrabuddin Sheikh and Tulsiram Prajapati and was arrested in the first case in July 2010. He is out on bail now.
Seven officers including Singhal have been charge sheeted by the central probe agency in the encounter case of Ishrat, Javed Shaikh alias Pranesh Pillai, Amjad Ali Rana and Zeeshan Johar on the outskirts of the city.

CBI has alleged that the encounter was fake and was carried out jointly by Gujarat police and IB.

In the first charge sheet filed in the case, CBI had not gone into details of the alleged conspiracy behind the encounter but tried to establish that it was fake.

However, the agency is likely to file a second charge sheet in the case soon which might contain names of those behind the alleged conspiracy to eliminate the four persons.