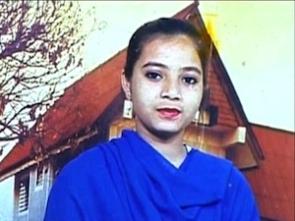 The family members of Ishrat Jahan, the teenager killed by the Gujarat police in a "fake" encounter in 2004, claimed threat to their lives and demanded adequate security. Ishrat's mother Shamima Kauser, through her lawyer, wrote to Union Home Secretary Anil Goswami, claiming "grave threat to life, liberty and security" to her, her children as well as Rauf Lala and Mohinuddin Ismail Sayed, who have been supporting her fight for justice, and sought protection.
Nine years after Ishrat, 19, whose family resides in Mumbra in adjoining Thane, and three others were gunned down near Ahmedabad, the Central Bureau of Investigation last week charge-sheeted seven Gujarat police for the "fake" encounter.
Addressing a press conference in Mumbai, Ishrat's sister Mushrat said, "My family and those supporting us are facing threat to their lives. Those who don't want us to fight for justice are terrorising us." Explaining further, she said, "A number of policemen were deployed outside our building. However, at about 2.30 am today (Thursday), a group of men, claiming to be policemen, knocked at our door and sought to know if we are safe. They kept banging on the door and left after whispering among themselves. It was clear they had come to harm us."
"This (Thursday) morning, when we asked the Mumbra police if they had sent anybody to our house last night, the cops replied in the negative," Mushrat claimed.
Citing another incident, Ishrat's uncle Rauf Lala said he and his family members were returning home in a car from the airport on the intervening night of June 18-19 when two armed men attacked the vehicle and broke its rear glass. "The attackers were nabbed by a crowd and taken to Mumbra police station. A country made firearm was recovered from them. It was clear that the accused fired at the vehicle. But the police diluted the crime, registered a road accident case and let off the two."
An inquiry later revealed that one of the attackers, Firoz Kalia, was a contract killer, Rauf Lala said. He said when they had gone to attend a programme in Haryana, a vehicle followed them for nearly 30 km.
Rauf Lala said, "A group of people had planned to disrupt a public programme in Delhi where the Ishrat family members were present. We attended the programme under police protection."
Filmmaker Mahesh Bhatt, who attended the conference to express support for the family, said, "Tokenism in the name of security will not help. Deploying one or two policemen will not serve any purpose. It is a test case for the entire nation. If the family of Ishrat, which is fighting for justice, is not safe then, as an individual, you and I are also not safe." "There is a need to create a firewall around these brave people. It is my as well as your responsibility to create a firewall around the family which is fighting against very powerful people who will use every trick to safeguard themselves," he said. Bhatt demanded fast-tracking of the Ishrat encounter case.
Human rights activist Shabnam Hashmi stated that the government must give adequate security to the family as it has been fighting against powerful politicians like Narendra Modi and Amit Shah.