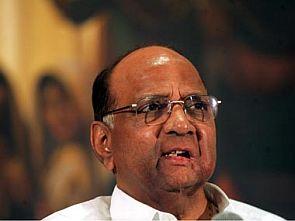 The assembly poll results in four states indicate that people want strong leaders, Nationalist Congress Party president Sharad Pawar said as he called upon the Congress and other allies to ponder over the outcome which is being seen as a reflection of the anger against the United Progressive Alliance government at the Centre.
"The Congress has suffered a jolt in the polls. Everybody, including the Congress and us, will have to ponder over this seriously," he said in a statement.
"The new generation had a big role in this electoral defeat and their anger has been reflected through the ballot," he said in his reaction to the assembly poll results, which showed the Congress faring poorly and the Bharatiya Janata Party doing well.
Pawar emphasised the importance of strong leaders who can take quick decisions. "The ruler must be strong and one who ensures effective measures and also have the capacity to implement decisions taken," the Union minister said.
"People don't like weak rulers," the 73-year-old Maratha strongman said, adding that other forces raise their head if people don't see administrators who have the capability to implement the decisions they have taken.
Though Pawar did not take names, it was apparent that the NCP chief, who left the Congress in 1999 to form his own party, was expressing his views on the current leadership of the UPA's lead party.
"In this context the example of Indira Gandhi can be given. She used to implement decisions with vigour," he said. "That is why, during her tenure, this "jhola" class (people with NGO background) which offers free advice, were not there."
The "jholawalla gang" is putting forth new unrealistic ideas, which are having an impact on the media and some people in the government, Pawar said, without elaborating.
"In Delhi, the youth became restless after the Nirbhaya gangrape case and sided with Aam Aadmi Party in a big way," the NCP leader said.