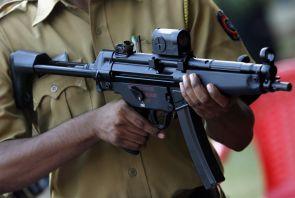 A policeman has been sentenced to death and seven others have been awarded life imprisonment after they were found guilty in a fake encounter involving three students by a Central Bureau of Investigation court in Patna.
The fast track court headed by Judge Ravi Shankar Sinha announced the death sentence to then station house officer of Shastri Nagar police station Shamse Alam and life imprisonment till death to police constable Arun Kumar Singh and six others.
Last week, the court found all of them guilty of murdering three students in 2002 in Patna.
According to the chargesheet, the three students -- Vikash Ranjan, Prashant Singh and Himanshu Shekhar -- were killed in a fake encounter at a market near Ashiyana Nagar locality, which falls under the jurisdiction of the Shastri Nagar police station, on December 28, 2002.
Alam and Singh fatally shot the three students in the head and dubbed them as dacoits in a police report.
The six others were shopkeepers from the market who had brutally beaten up the three students following a scuffle between them and a telephone booth operator over a bill.
The case was first probed by the local police, then the CID and subsequently handed over to the CBI. As many as 33 witnesses were examined by the court during the protracted trial. Alam, the prime accused, was denied bail by various courts since his arrested in 2003.

Image: Representation purpose