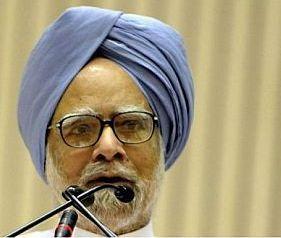 Blame game over sharing of intelligence has clouded investigations into the serial blasts at Patna's Gandhi Maidan during Narendra Modi's rally on October 27 in which six people lost their lives and 85 others were injured.
Intelligence Bureau officials have complained that the Bihar police remained out of reach for a considerable amount of time as the bombs went off at Patna last week.
There was a great deal that was required to be shared between the central agency and the local police as the incident occurred, but several calls to the state police were unanswered.
Sources told Rediff.com that finally IB officials had to seek the intervention of Prime Minister Manmohan Singh who in turn called Bihar Chief Minister Nitish Kumar.
"The PM had to tell Kumar to direct his police force to respond to the intelligence following which the communication began", the IB official said on condition of anonymity.
However, by the time this happened, three hours had already passed and there were nearly six explosions by then. Sources in the IB pointed out that "during such times it is very essential that the state police and the intelligence wing are in touch".
"There are intercepts that have to be shared and they also need to collect information from the ground. The central intelligence team has its people on the ground at all states, but they are able to work only if they coordinate with the local police," the official noted.
The Bihar police, however, blamed the Intelligence Bureau and said that there were no specific intercepts that were shared with them.
"General intercepts are issued in case of big leaders, but we also need something more specific. The state intelligence agencies do not have the amount of information that a central team has. Acts of terror are often planned by modules outside a state and that is not the information that a local police force or IB would have unless it is shared by the Centre", an officer with the Bihar police said.
"The IB says that during the Patna attack there was a constant flow of information regarding more bombs. They also wanted information from the local police regarding the suspects and also the type of bombs so that they could have looked for further clues. In such an event apart from the attack there is also information regarding the suspects that start to flow in. It is important that we share such information so that it helps in nabbing the culprits as well," the IB official noted.