Narendra Modi represents a change that embraces efficient delivery mechanisms, integrity, innovative solutions to governance and a welcome discourse away from Hindutva and Pakistan, says Jaya Jaitly.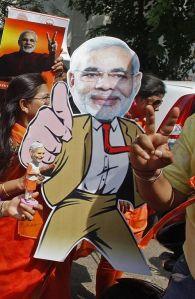 Now that Bharatiya Janata Party's prime ministerial candidate Narendra Modi has stepped out of Gujarat and is reaching out to people in many states, people are getting an opportunity to see and hear the man for themselves. His popularity has not suffered and he continues to gain supporters wherever he goes, leaving his opponents fuming.
A recently circulated article on Godhra and its aftermath written some years ago by Nicole Elfi, a foreign woman living in India, is worth reading. It is time to be honest and stop believing all the atrocious accusations that spread like wildfire ever since those fateful riots in 2002.
But the die-hards who call themselves intellectuals, who refuse to sift fact from fiction because it suits their strange egos, will not be changed by it.
Suppose Modi becomes prime minister of the country, does it mean that those who are against Modi will behave like the Republican Party in the USA, which cannot swallow Obama's presidency and would rather push their country to financial standstill rather than accept his medicare policy?
Does it not enjoin upon all thoughtful, open-minded people without personal agendas, to examine facts and select those that are not disproved with hard evidence? There are many socialists who have still not reconciled with the Samata Party and later the Janata Dal aligning with the BJP, despite the fact that no non-secular policies were taken by the National Democratic Alliance.
Vajpayee (former prime minister) was a product of the Rashtriya Swayamsevak Sangh while Advani (BJP patriarch) led the Rath Yatra to Ayodhya. Yet the NDA government governed with a good rapport with its allies. Many socialists have joined the BJP for political and not ideological reasons. Are they to be condemned as communal?
Today, some of those who were part of that government like Nitish Kumar and Sharad Yadav (Janata Dal-United leaders) choose to forget this and have gone back to the politics of secular-communal divide. What will they do if more Muslims genuinely start believing Modi will do them well?
When Modi calls upon Muslims and Hindus to unify and fight against poverty in Patna, Nitish Kumar (Bihar chief minister) likens him to Hitler. When Modi attacks the Congress dynasty, as did George Fernandes (founder of the Samata Party) whenever and wherever he could, it is considered vulgar political attack.
When he talks of Gujarat's good governance, he is termed a liar -- as if we would rather believe Gujarat's people are miserable and impoverished. It is obvious that for too long the namby-pamby, you-scratch-my-back-and-I'll-scratch-yours kind of politics has been going on.
Apart from misusing religion and caste, politicians have got used to deals, favours and joint business ventures. Corruption is not an issue and why should they bother about price rise when their pockets are full of power and pelf? If Modi uses, albeit mocking the dynastic principle, the term shehzada for Rahul Gandhi (Congress vice president), it is soundly condemned by the Congress, whose own dear leader chose to call Modi a 'merchant of death'.
Is no one noticing the silence from the Congress on the issue of Sikh genocide in 1984, though they encourage their agents to term Gujarat's riots a genocide although Hindus and Muslims were equally at fault and both died in considerable numbers through police firing? When Modi praises Sardar Patel, the prime minister could have praised Modi for praising a great Congress leader. Instead he minimised the grandeur of the occasion by claiming him as a Congressman and pointing to his secularism.
Modi's answers on both counts hit the mark, as Patel has become a central figure showing up dynastic politics for what it is worth and defining what true secularism means.
Modi represents a change that embraces efficient delivery mechanisms, integrity, innovative solutions to governance and a welcome discourse away from Hindutva and Pakistan.
We should welcome his realisation that when you aim for power in Delhi you have to be moderate, inclusive and statesmanlike. His reinvention should be welcomed. This was precisely why George Fernandes chose to align with the BJP. It was to reassure the country that all citizens would be respected and treated as equal, and that India's interest was above all else. Moderating an extreme force in politics means to join hands with them while keeping one's principles and ideology. That is real politics and he was being nothing more than a true socialist in doing this.
Articles telling the truth about Godhra and another side of Narendra Modi show us versions that are constantly suppressed because vested interests want to smear anyone who is not part of the Congress. These elements do not want integrity, honesty and a government that puts the nation first, as the NDA attempted to do.
As Modi attempts this again, it is the same 'me before the country' syndrome that seems to come in the way.