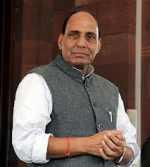 New Bharatiya Janata Party President Rajnath Singh on Wednesday asked party men to exercise restraint in their speech and conduct and fight for people's issues to gain the confidence of the masses.
Addressing party leaders and workers at the BJP headquarters in New Delhi, Singh also asked them to maintain patience. He exhorted BJP workers to work for strengthening the party and said there is a need to fight for the problems of the common man and gain their confidence as the ruling party at the Centre had failed on this front.
"Leaders should maintain good speech and conduct...They should have patience," Singh told party men.
The BJP chief was at a party headquarters for about two hours. This is the second time after assuming charge that he met leaders and workers of the party here.
Singh later met party leader Sushma Swaraj over lunch at her residence where the two leaders discussed key party matters, including formation of a new team.
The party is likely to hold the national executive and national council meetings in mid-February, after which Singh will announce his new team.