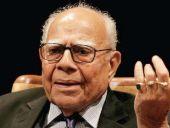 Suspended Bharatiya Janata Party leader Ram Jethmalani, who had openly opposed Nitin Gadkari's re-electionas the party chief, on lauded Rajnath Singh for his "wisdom" and hoped that the new president will "cleanse" the organisation.
"In the present circumstances, he is a much better man. I hope (with) absolute wisdom and great statesmanship, he cleans BJP of the people who are inside BJP but are a threat to its continued existence," he told reporters here.
Singh was elected unopposed as BJP president today after he filed nomination papers for the post. This is his second term as party's chief.
Singh, who headed the party from 2006 to 2009, emerged as the consensus candidate after Gadkari, facing allegations of dubious funding of his company, was last night forced out of the race for party President's post.
In October last year, Jethmalani, a Rajya Sabha MP, had openly said that Gadkari should not seek a second term as BJP chief as it would weaken party's position on the issue of the fight against corruption.
He was suspended by the party in November last on grounds of indiscipline.