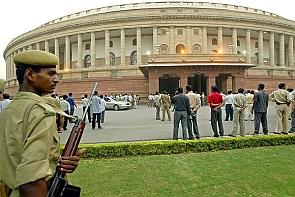 A Parliamentary panel has asked the Centre to put on hold its move to set up the controversial anti-terror hub NationalCounterterrorismCenter till all state governments and political parties come on board.
In its report, the Parliamentary standing committee on home affairs said it had taken note of objections raised by the members and also those objections reportedly raised by several state governments on the issue of setting up of NCTC.
"The committee suggested to the government to keep the decision in abeyance until discussions were held with all the state governments and all political parties and a consensus was arrived at," it said.
The proposal to set up the NCTC has not been materialised due to strong oppositions of several chief ministers, including Mamata Banerjee (West Bengal), Narendra Modi (Gujarat), J Jayalalitha (Tamil Nadu) and Naveen Patnaik (Odisha).
Even a special meeting of the chief ministers, held on March 5, 2012, failed to evolve a consensus on NCTC, a pet project of former Home Minister P Chidambaram.
Home Minister Sushilkumar Shinde had said that all apprehensions of the opposing chief ministers have been allayed as the "operations" part of the NCTC has been taken out from the body.
"There is nothing to oppose in the NCTC now. The operations part (of the NCTC) has been taken out. I am hopeful that the NCTC will be approved by the chief ministers," he had said.
The Parliamentary panel, headed by BJP leader M Venkaiah Naidu, said due to the prevailing circumstances, it "would like to impress upon the government that the matter be sorted out to the satisfaction of all the state governments and Union Territories and decision may be taken with the consensus of all the concerned".