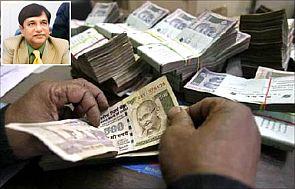 A second police complaint has been filed against Trinamool Congress MP Kunal Ghosh by employees of Sakalbela, a closed Bengali daily owned by the Saradha Group, with Ghosh offering to resign if his complicity was proved and his party saying that none of the guilty would be spared.
Police sources said the employees of the newspaper filed the FIR against Ghosh last night at Bhawanipore police station for non-payment of their salaries.
A similar FIR was filed at Park Street police station against Ghosh, Saradha Group chairman Sudipta Sen and six others by 21 employees of a television channel, Channel 10, run by the group, for non payment of their salaries and for not depositing their provident fund dues.
Ghosh has, in a six page letter to party chief Mamata Banerjee which was uploaded on Trinamool Congress website on Friday night, said he is ready to face and co-operate with any investigation.


"I am not connected with the Saradha's money market activities. I am ready to resign as a Rajya Sabha member if investigation revealed (complicity in the scam)," he said.

Ghosh, who was the CEO of the Saradha Media group, claimed he had joined the media unit of the Saradha Group before joining TMC.
"I was not the owner. Finance and accounts were not under me. I did not have cheque signing authority. Attempts are being made to tarnish my image," Ghosh said.
Trinamool Congress General Secretary Mukul Roy told a rally at Sildah in West Midnapore that "all those guilty, even if they are big shots, will be punished by the government."

In Kolkata, asked about Kunal Ghosh's letter, Industry Minister Partha Chatterjee said he had no information about any letter written to the chief minister.