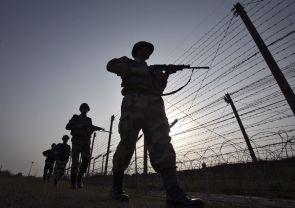 In the continued escalation at the international border, Pakistan yet again violated the ceasefire targeting as many as 35 Border Security Force posts in Jammu.
In its latest violations, Pakistani Rangers resorted to unprovoked heavy mortar shelling and firing from heavy machine guns in the Ramgrah, Arnia, RS Pora and Kanachak sectors in Jammu.
"As many as 35 BSF posts were affected due to the unprovoked fire from Pakistani side," a senior BSF officer said. "Pakistan initiated the fire around 10 pm on Sunday," he added.
He said BSF troops retaliated in calibrated and a befitting manner. Divisional Commissioner Jamm hant Manu told Rediff.com that three civilians were injured in the heavy shelling in the Ramgrah sector of Samba district on Sunday night. He added that the injured were immediately evacuated to the hospital for treatment.
A father-son duo was also killed and three other family members were injured in heavy Pakistan shelling on Saturday in the RS Pora sector after a shell hit their house.