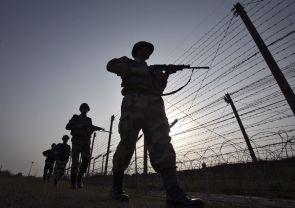 Four suspected Lashkar-e-Toiba militants and two soldiers were on Sunday killed in two separate operations close to Line of Control in Kupwara district of Jammu and Kashmir.
Security forces had laid an ambush on Saturday night in Kalaroos area of Kupwara following an information about movement of militants in the area, an army official said.
He said contact with the group of militants was established on Sunday morning and they were asked to surrender. "However, the ultras opened firing towards security forces' positions, which was retaliated, resulting in a gun battle that lasted several hours," the official said. He said a search operation was carried out after the gun fire stopped and bodies of four militants were recovered.
Four AK rifles and some ammunition were also recovered from the spot, he added.
An army soldier – Naik Neeraj Kumar Singh – sustained grievous injuries during the operation and was airlifted to 92 Base Hospital Srinagar, where he succumbed, the official said. The official said the militants were believed to be affiliated to LeT.
According to an army spokesman it was not yet clear whether the militants were infiltrating from or exfiltrating to Pakistan-occupied Kashmir. "It can be ascertained only after analysing the recoveries affected from the slain terrorists," he said.
In another operation in Keran sector, a jawan was killed in a brief gunbattle with militants late Saturday night. Grenadier Rahul Kumar was injured in the operation and taken to military hospital at Drugmulla in Kupwara where he succumbed to injuries, an army official said.