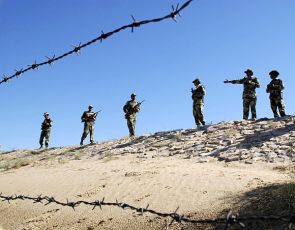 Pakistani troops continued to violate the ceasefire by shelling and firing upon 25 Border Out Posts and 19 villages along the International Border in Jammu sector throughout the night, prompting the Border Security Force to retaliate.
"Pakistan Rangers resorted to heavy firing of small and automatic weapons and shelling of mortars bombs on 25 BoPs and civilian areas along IB in Arnia and R S Pura sub-sectors of Jammu district from 2030 hours last night" a BSF officer said on Sunday.
BSF troops gave a befitting reply by responding strongly and the heavy exchanges continued till 0730 hours today, he said.
As per the official reports, Pakistan troops also targeted 19 border villages throughout the night. "Although there was no loss of human life or injury to anyone, three cows were killed in Treva border village in the shelling," Sub-Divisional Police Officer, R S Pura, Devender Singh said.
Civilian casualties have been avoided due to evacuation of villagers or night migration from over 20 border hamlets along IB in R S Pura and Arnia sub-sectors of Jammu district, he said.
There have been 18 ceasefire violations in less than a fortnight and 20 in the month of August.
In a major escalation, Pakistani troops resorted to heavy shelling and firing on 22 BoPs and 13 villages, killing 2 civilians and injuring 6 others including a BSF jawan along International Border in Arnia and R S Pura Sub-sectors of Jammu sector on Saturday.
Pakistan troops also fired during the day on Saturday in Shahpur sub-sector of Poonch violating ceasefire.
In the firing and shelling, 2 people were killed and 6 others including a BSF jawan were injured and 5 houses suffered damaged, security officials had said. At least 3,000 people from 7 to 8 border villages, were evacuated by the district administration in view of their safety and shifted to safe shelters, Divisional Commissioner, Jammu Zone, Shant Manu said.
They were housed in safe shelters in the government high school, Rangpur in Basspur bungalow and government industrial training institute, RS Pura.
These two government buildings have been identified by the district administration for the civilians to protect them from Pakistan firing as a part of contingency plan put in place after fresh round of heavy shelling and firing in RS Pura sector.
Civil and police administration was camping in RS Pura and have made arrangements for accommodating the border villagers.