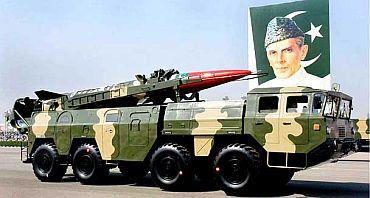 Pakistan military has appointed Lt Gen Zubair Mahmood Hayat as the new chief of the Strategic Plans Division, which manages and secures the country's nuclear arsenal.
Lt Gen Hayat was earlier the Corps Commander Bahawalpur and will replace Lt Gen (Retd) Khalid Ahmed Kidwai, an ISPR official said.
Analysts say the appointment is part of the reshuffle being carried out by the new Pakistan Army chief Gen Raheel Sharif.
The Strategic Plan Division was established in February 2000 to improve the control of nuclear operations. It acts as a secretariat for the National Command Authority.
The SPD has a full-fledged Security Division, which includes a counter-intelligence network to safeguard the activities of strategic organisations.
It also has in place a dedicated multi-layered security apparatus o safeguard strategic assets.
The Security Division of SPD has also been significantly expanded since its inception, to maintain a close watch on all aspects and organisations of the nuclear programme.
It is tasked with the security of sites, activities, material management, material inventory, personnel reliability and counter intelligence.
It also controls a specialised armed security force which is said to be 25,000 personnel strong.
Pakistan is estimated to have around 110-120 nuclear warheads.
Former military ruler Gen Pervez Musharraf had said in 2007 that the weapons were in a "disassembled state".
This could likely mean that the warheads were kept separately from the ballistic missiles capable of delivering them to targets.
Even though many global experts at times raised doubts about the safety of the Pakistani nuclear weapons and the possibility of them falling into terrorists hands, Pakistan has guaranteed 100 per cent security.