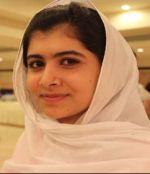 The Pakistani police are on the look out for two youths suspected of shooting 15-year-old education activist Malala Yousufzai, and the prime suspect who drove them to the scene, Interior Minister Rehman Malik has said.
Malala, who earned international fame for raising voice against Taliban oppression and for advocating girls; right to education in Swat valley, was shot in the neck and head by the Tehrik-i-Taliban Pakistan on October 9. She was flown to Britain six days later for specialised treatment.
"The guys who actually made this assassination attempt, they were two young boys," the CNN quoted Malik, as saying. He added that it was 23-year-old Attaullah Khan, a man identified by police as their primary suspect, who brought the two boys to Malala's hometown.
The police said last week that they had arrested six men in connection with the shooting, but were still searching for Khan, who was studying for a master's degree in chemistry.
"Within 24 hours we were in a position to identify almost everybody," Malik claimed. He had also rejected calls from some in Pakistan to bring the country's military to bear on the attackers, saying "a military solution is not the solution".
He said police had offered to protect Malala three times before the incident, but her father had refused. He said her entire family would be under guard when they return to Pakistan after her treatment, for which the government will pay.
He said that it will require two cordons of police -- female officers to surround Malala, with male officers surrounding the female contingent.
"I assure to the world community that when she goes back, we do have the ability to protect her," Malik said. He said Malala and her parents could stay in the United Kingdom as long as needed, "until she is fully rehabilitated."


Meanwhile, doctors in Queen Elizabeth Hospital in Birmingham who are treating Malala Yousufzai, the teenaged Pakistani education activist who was shot by the Taliban almost two weeks ago, have said the 15-year-old has shown good progress.
An update on the Birmingham hospital's website read, "The medical team caring for Malala says they are pleased with her progress."
It added that she is being looked after by staff from the Queen Elizabeth and Birmingham Children's hospitals and remains in a stable condition, The Express Tribune reported.
According to reports, President Asif Ali Zardari's daughter Aseefa Bhutto Zardari spent Eid with Malala's family in Birmingham accompanied by the Pakistan High Commissioner to UK Wajid Shamsul Hassan.
Aseefa said the whole of Pakistan is supporting Malala, who has now become a national symbol of peace' enlightenment and women empowerment.