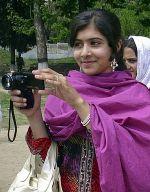 Pakistan's teenage rights activist Malala Yousufzai, shot in the head by the Taliban, is "up and walking," her father said after visiting her for the first time at a specialised UK hospital, where she is recovering at "an encouraging speed".
"She got the right treatment, at the right place, at the right time. She is recovering at an encouraging speed and we are very happy," an emotional Ziauddin Yousufzai told newsmen.
Asked how he felt when he, along with his family, saw 15-year-old Malala at the Queen Elizabeth Hospital Birmingham, Ziauddin said: "I love her and last night when we met there were tears in our eyes out of happiness. We all cried a little bit."
He said that his daughter is safe in the UK.
She was transferred to the UK because of the need for a safe environment to recover from the Taliban gun attack on October 9 in Pakistan's restive Swat region.
Pakistan President Asif Ali Zardari had taken the decision to move her to the UK, Ziauddin said, adding that Malala's survival is a "miracle".
He said the first time he had seen his daughter after the attack in Pakistan, her "whole body was swollen" and in a terrible condition.
But when he saw her last night in Birmingham she was "up and walking."
Surgeons in Pakistan worked for days to save her life and "she has received the right treatment at the right place at the right time."
The schoolgirl was flown to the UK last week following a surgery in Pakistan during which a bullet lodged near her spine was removed.
Ziauddin said his daughter would return to Pakistan once she has recovered and that she was determined to continue her schooling.