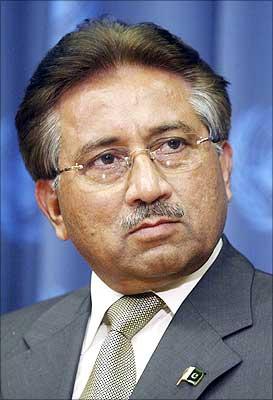 The Pakistan government on Saturday filed an appeal in the Supreme Court against a high court decision to lift travel ban slapped on former military dictator Pervez Musharraf last year.
Attorney General Salman Aslam Butt filed the appeal against the ruling of the Sindh high court ordering the government to lift the travel ban on 70-year-old Musharraf.
A two-judge bench of the Sindh HC comprising Justices Mohammad Ali Mazhar and Shahnawaz had issued a brief ruling on Thursday directing the Nawaz Sharif government to remove Musharraf's name from the Exit Control List.
The high court had given 15 days to file an appeal against its decision.
In its appeal, the government requested the apex court not to allow the removal of Musharraf's name from the ECL, which deals with the restriction imposed on foreign trips of an individual. It said that if Musharraf was allowed to leave the country, he may never come back to face the treason trial.
Musharraf, who returned to Pakistan in March last year ahead of the general elections ending his over four-year self-imposed exile, has faced multiple trials including one under the high-treason act for which he was placed under house arrest and barred from travelling abroad. He had filed a petition in the high court to remove his name from the ECL so that he can visit his ailing mother in the United Arab Emirates.
Musharraf, the first military ruler in Pakistan's history to be tried in court, has rejected all the charges leveled against him, including treason.
If convicted, he can get death penalty. His trial had put the civilian leadership at odds with the military.
Musharraf ruled from 1999 to 2008 when he was forced to quit.

Image: Pakistan's former military dictator Pervez Musharraf