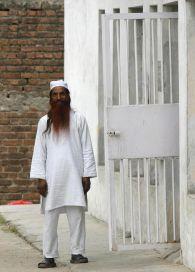 Pakistan on Thursday demanded an investigation into the assault on Pakistani prisoner Sanaullah Ranjay, who died of multi-organ failure in an Indian hospital almost a week after he was injured in a jail in Jammu.
"The brutal manner in which Sanaullah was attacked in the jail is most unfortunate and a matter of deep concern for the government of Pakistan," Foreign Office spokesman Aizaz Ahmad Chaudhry said.
"We have conveyed our concern to the government of India in this regard and demanded that an investigation into the incident be held and perpetrators of this heinous crime be brought to justice," Chaudhry said.
Sanaullah, a resident of Sialkot in Punjab province, was serving a life term after being convicted of involvement in terrorist activities in 1999.
He was attacked in Kot Bhalwal Jail in Jammu by a fellow inmate convicted of murder after a row between the two men on May 3.
The attack on Ranjay happened a day after Indian prisoner Sarabjit Singh died following an assault in Lahore's Kot Lakhpat Jail.
Sarabjit, sentenced to death in 1990 for involvement in a string of bombings, was attacked with bricks by other prisoners.
Foreign Office spokesman Chaudhry said Pakistan was making arrangements to repatriate Ranjay's body.
"We hope that the government of India will extend expeditious facilitation to that end," he said.
He noted that caretaker Prime Minister Mir Hazar Khan Khoso had called on the Indian government to "ensure the safety and security of all Pakistani prisoners in Indian jails".
"We also reiterate our call to the government of India to hold focused discussions on the conditions of Pakistani prisoners in Indian jails and repatriate those who have already completed their sentences as per the Consular Access Agreement between Pakistan and India," he said.
At least 532 Indian prisoners, including over 480 fishermen, are currently being held in jails in Lahore, Karachi and Rawalpindi. There are 272 Pakistani prisoners in Indian jails.
Image: Sanaullah Ranjay
Photograph: Mukesh Gupta/Reuters