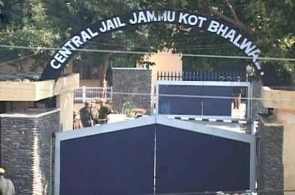 The condition of injured Pakistani prisoner Sanaullah Ranjay is "extremely critical" and far worse than Tuesday night, a medical bulletin said in Chandigarh.
"His overall status is extremely critical, far worse than yesterday night," a medical bulletin issued by the Post Graduate Institute of Medical Education and Research on Wednesday evening, said.
"Neurologically he continues to be in deep coma," the bulletin issued by Prof S N Mathuriya, head of neurosurgery department and Prof Y K Batra of Anaesthesia, said.
"The patient has become extremely critical. He has developed renal failure with no urine output since morning. Hence, he was put on peritoneal dialysis by nephrologists," the bulletin said.
It further said, "He had developed hypothermia (low temperature). He is in uncontrollable acidosis with arterial pH 7.06 and base deficit -19 (grossly deranged). His oxygen level is maintained on lower level of optimum (80% oxygen flow). His blood pressure is maintained on highest dose of vasopressors (an agent that causes a rise in blood pressure)."
A resident of Sialkot in Pakistan, 52-year-old Sanaullah Ranjay is serving a life term after he was convicted under Terrorist and Disruptive Activities (Prevention) Act provisions following his arrest in 1999. He was injured in a scuffle with another inmate in the high security Kot Bhalwal jail in Jammu and rushed to the PGIMER here in an air ambulance on Friday last.
The assault came a day after the death of an Indian prisoner Sarabjit Singh who was brutally attacked by fellow inmates in Lahore's Kot Lakhpat Jail.
Sanaullah's relatives, brother-in-law Mohammed Sehzaad and nephew Mohammed Asif, who arrived here yesterday, visited him today for about 10 minutes in the advanced trauma centre of PGIMER.
Tight security arrangements have been put in place around the advanced trauma centre where Sanaullah is undergoing treatment.

Image: Pakistani prisoner Sanaullah Ranjay was lodged in the Kot Bhalwal jail in Jammu