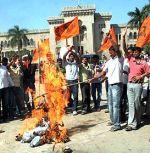 Posters have been found on the OsmaniaUniversity campus asking youngsters to join an "armed struggle to achieve Telangana state," prompting police to launch a probe into it.
Andhra Pradesh Director General of Police V Dinesh Reddy on Friday said the police was "seriously probing" the incident.
Over 200 posters were found in several hostels and other places on the OU campus, the hotbed of Telangana agitation for the last few years, asking the students to start the armed struggle, saying "only a militant struggle could lead to Telangana state formation."
The posters further stated that only an armed struggle would lead to separation of Telangana and students being in the forefront of the movement should be prepared for it.
Reacting to queries over the posters, the AP Police chief told reporters that all such posters will be verified and proper investigation would be conducted into it.
"It is not that it will be left just like that. It will be seriously probed... the entire thing is being looked into and necessary follow up action is being initiated," Dinesh Reddy said.
OU campus had witnessed violent clashes between the police and students during the separate statehood agitation since November 2009.
Meanwhile, OsmaniaUniversity police said posters on the campus are suspected to be put up by an organization 'Telangana Peoples Liberation Front' and they have registered a case under relevant sections of IPC.