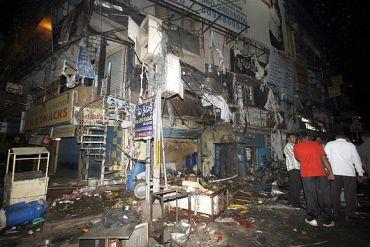 Andhra Pradesh Police on Friday said the face of one of the suspects of February 21 Dilsukhnagar twin blasts case in Hyderabad was clearly captured by CCTV cameras and efforts are on to identity the person.
"The face of one of the suspects with a bicycle has been clearly captured by CCTV cameras and the process is on for the identification of the suspect," Andhra Pradesh Director General of Police V Dinesh Reddy told reporters in Hyderabad late on Friday evening.
The images were recorded by a traffic surveillance camera and a CCTV camera in a store. The sketches of the suspect may be released by NIA investigating the case, Reddy said.
Two powerful improvised explosive devices packed in aluminium containers with ammonium nitrate and shrapnels, and planted on bicycles, had exploded near Konark and Venkatadiri theatres in Dilsukhnagar on the evening of February 21, claiming lives of 17 persons and injuring over 100.
Image: The scene after the blasts at Dilsukhnagar in Hyderabad
Photograph: SnapsIndia