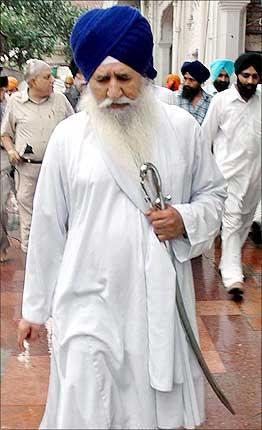 What led to the sacking of Joginder Singh Vedanti as the head priest of Akal Takht, the highest temporal seat of the Sikhs?
 
"I was sacked," said Vedanti, "because I supported Prime Minister Manmohan Singh during the crucial trust vote."
 
It is learnt that a top delegation of  the Shiromani Gurdwara Prabhandak Committee, including its president Avtar Singh Makkar, general secretary Sukhdev Singh Bahur and executive committee member Rajinder Singh Mehta rushed to Vedanti to collect his resignation letter. Though they deny that they were involved, Vedanti told rediff.com on Wednesday that he was forced to resign and Giani Gurbachan Singh was appointed in his place.
"Some days ago, the three of them came to me and asked me to resign. They were very angry and told me that some of my remarks had upset their political partners. I told them  that Prime Minister Dr Manmohan Singh, as a Sikh, has done the nation proud. If  that has upset their political partners, then I don't have anything to say. I would say the same about Dr Singh again. He is honest and a true Sikh," Vedanti told rediff.com in a candid conversation.
 
It is said Vedanti helped the prime minister in framing his speech during the trust vote, at least in the parts where he referred to Guru Gobind Singh. 
To pacify the agitated officials who reportedly asked for his resignation at the instance of Punjab Chief Minister Prakash Singh Badal, Vedanti wrote out the resignation letter and handed it over to Bahur.
 
"The moment they got the letter, they left. Appointments are done and cancelled, I have no quarrels. But I was pained at the manner in which it was carried out," he said.
 
Makkar, however, denied Vedanti's claim.
 
"We are willing to distribute copies of the resignation letter to the media to prove that it was written in his own handw," Makkar told this correspondent.
 
Eleven out of the 13 executive committee members voted in favour of Vedanti's resignation while Karnail Singh Panjoli and Gurwinder Singh alleged that the letter was written under duress.
Vedanti has also been accused of supporting the demand for a separate homeland for Sikhs during his recent trip to the United States.
 
"I never made such statements. You can browse newspapers in the US during that period. What I said was that wherever the Sikhs go, they carve out a separate state for themselves and our homeland has no boundaries. I still stand by that statement," Vedanti clarified.
Vedanti also came under attack for his poor handling of the Akali-Dera row and the Sant Samaj had sought his resignation. With Lok Sabha elections around the corner, Badal did not want to take any chances but wanted to keep the Sant Samaj happy. 
Giani Gurbachan Singh, who has been appointed temporary head of the Akal Takht in Vedanti's place, has risen from being an ordinary sewadar to the religion's highest temporal post.
Image: Joginder Singh Vedanti on his way to pay obeisance at the Golden Temple at Amritsar after submitting his resignation on Tuesday.
Photograph: PTI