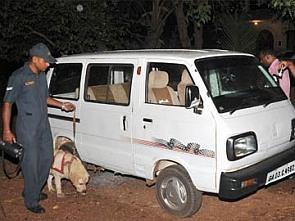 One person was killed and four children were among the injured in a blast near Madgaon town, 40 km from Panaji, this afternoon, a top police official said.
Police sources have ruled out a terror angle.

DIG O Mishra informed that prima facie the bomb was crude in nature.

"The migrant worker had prepared a crude bomb and had decided to kill wild animals with it. However, the bomb accidentally exploded as he reached home. He lost his life and his family members were injured," he said.

The blast in Madgaon, which has several industries, occurred at a place where workers reside.
The use of gelatine sticks here is normally used for industrial purposes.

They had busted a major terror plot in December 2013. The police had recovered 86 bags of explosives, 500 detonators and several bags of the safety fuse coil used to make bombs.
The police had apprehended Moideen Kunnhi a resident of Puttur in connection with case. It was alleged that this man from Karnataka had plans of undertaking an attack and hence was in the possession of these explosives.
The matter had come up for hearing two days ago and the court had rejected his bail plea.
Image used for representation purpose only