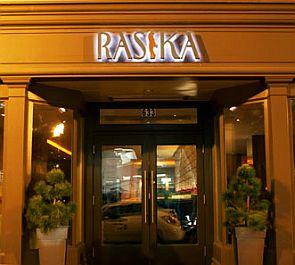 US President Barack Obama and first lady Michelle chose a posh Indian restaurant frequented by the elite for an intimate dinner date to celebrate president's 52nd birthday.
The couple celebrated the president's birthday with dinner at award-winning Rasika restaurant near the White House in Washington's West End neighbourhood on Thursday.
"The President and First Lady are going out to dinner to celebrate his birthday," the White House said.
Leaving the White House earlier, Michelle was spotted wearing a knee-length, backless black dress. The president was dressed in his usual suit.
According to the restaurant's website, Rasika serves modern Indian cuisine, offering "small plates, a modern lounge, and a temperature controlled wine cellar."
Tawa (Griddle), Sigri (open Barbeque), Tandoori and other regional dishes are the specialities of the restaurant.
The travelling press pool reported "few people seemed to notice as the motorcade drove down Pennsylvania Ave, stopping at the lights along the way."
The president, who turned 52 on Sunday, spent his birthday weekend celebrating with friends and family at Camp David.
Rasika restaurant owned by Delhi-born Ashok Bajaj's Knightbridge group is a popular restaurant in Washington.
Ashok Bajaj has owned and operated award-winning restaurants in London and the United States for the last 25 plus years.