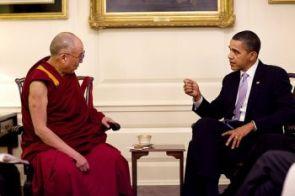 Hours before US President Barack Obama's meeting with the Tibetan spiritual leader Dalai Lama at the White House, China demanded its immediate cancellation, warning that the unjustified interference in its domestic affairs will cause "great damage" to bilateral ties.
US National Security Council spokesperson Caitlin Hayden announced that President Obama "will meet the Dalai Lama in his capacity as an internationally respected religious and cultural leader" on Friday.
The White House announcement drew sharp reaction from China, which has long opposed foreign dignitaries meeting with the 78-year-old Dalai Lama who fled to India in 1959.
"We urge the United States to take China's concerns seriously and not to facilitate or offer occasion for the Dalai Lama to conduct anti-China secessionist moves," Chinese Foreign Ministry spokeswoman Hua Chunying said in a statement.
"China is greatly concerned about the meeting, and has lodged solemn representations to the US side," Hua said.
The Tibetan issue is a domestic affair for China, she said, adding that there is no other country which bears the right to interfere.
The arranged meeting is an unjustified interference with China's domestic affairs and a serious violation of the principles of international relations, and will cause great damage to China-US relations, Hua warned.
The Dalai Lama is a political figure in exile who is undertaking anti-China separatist activities in the name of religion, she said.
Obama and the Dalai Lama -- both Nobel Peace Prize laureates - have met twice before, in 2010 and 2011, which drew similar protests from China.
Recalling that the US Presidents of both parties over the past three decades have met with the Tibetan spiritual leader, Hayden said the US supported the Dalai Lama's "middle way" approach of neither assimilation nor independence for Tibetans but recognised Tibet to be "a part of China".
"We do not support Tibetan independence," she said.
Hayden said the US strongly supports human rights and religious freedom in China.
"We are concerned about continuing tensions and the deteriorating human rights situation in Tibetan areas of China. We will continue to urge the Chinese government to resume dialogue with the Dalai Lama or his representatives, without preconditions, as a means to reduce tensions," Hayden said.