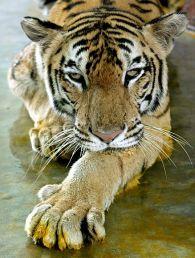 Check out this interesting scheme at a Nagpur zoo.
All it takes is a cheque for Rs 100,000 and a trip to Nagpur's Maharajbagh Zoo.
For that amount (well, you can buy a Nano for a lil' more), the zoo will allow you to adopt the national animal for a year.
Its four tigers are not the only creatures the zoo is putting up for adoption. Its roster of 356 animals includes leopards, jackals, sloth bears, spotted deer, blue bulls, black bucks, peacocks, emus, crocodiles, several birds and -- if you fancy our simian cousins -- monkeys.
"The intention is not to make money, but to involve the public in the conservation process," Sunil Bawaskar, who is in charge of the zoo, told Press Trust of India.
"Adoption automatically increases the interest in an animal and that will hopefully increase people's sensitivity towards them," Bawaskar said.
Not every animal is as expensive as the tiger. One of Maharajbagh Zoo's Black Bucks can be adopted for Rs 4,000 a year, less than the cost of eating out for a couple at a less fancy Mumbai restaurant.
Companies can also adopt entire enclosures of animals at the Maharajbagh Zoo.
Of course, you can't take the animal home if you decide to adopt, say a tiger.
The animal will continue to live at the Maharajbagh Zoo, but the adoptee gets a photograph of the adopted animal (no, no, not posing next to it :)), a year's pass to the zoo for five people, a framed certificate of adoption, information about the adopted animal, display of the adoptee's name at the adopted animal's enclosure.
The animals can be adopted for periods of 3 months, 6 months and a year at variable charges.
"If people want to associate with the animals in any other way like arranging for their food or other facilities themselves, they will be welcome," says Bawaskar, clearly someone with a passion for animal welfare.
Photograph: Rupak De Chowdhuri/Reuters