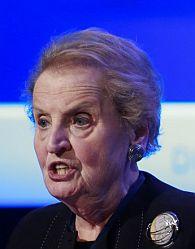 World benefits from the close cooperation and collaboration between Indian and the United States, former US Secretary of State Madeleine Albright has said.
"Because we are two large, dynamic democracies, we share many of the same concerns and common interests regionally and globally. Without a doubt, the world benefits from close cooperation and collaboration between the US and India," Albright, told Press Trust of India in an exclusive interview.
"On one hand, broadening and deepening our economic and commercial ties across a range of sectors is critical at this moment, for example in civilian nuclear cooperation. Strengthening our security partnership is also vital," she said ahead of the fourth India-US Strategic Dialogue in New Delhi next week.
"In particular, we need to collectively seize opportunities and tackle challenges as partners in the region -- the future in Afghanistan, relations with China, and improving relations with Pakistan would top the list.
There is also important work to be done to empower women further in society, to bolster food security, and to find common approaches on climate change and clean energy," Albright said.
The 64th Secretary of State of the United States, Albright has just concluded a trip to India.
"I just visited India and had a wide range of meetings with government and business leaders and can also personally testify not only to the bonds between our two countries but also the great potential that still lies ahead for closer trade and business ties, broader cultural exchanges, and deeper political cooperation," the former top American diplomat said.
"I know Secretary of State Kerry is looking forward to his visit and to the opportunity to do his part to bolster relations and dive into the wide range of issues we all share in common," she said.

"While this will be his first visit to India as Secretary of State, it will not be his first time in this great country. When he was Senator, he led the first US Congressional trade delegation to India and is very familiar with the range of issues that need to be addressed by our two countries," Albright added.
Responding to questions on the flurry of letters written by lawmakers and the business associations both to US President Barack Obama and Secretary Kerry, the former top American diplomat said it is important that the many stakeholders have a voice in this conversation.
"For example, addressing the challenge of protecting intellectual property, with the objective of driving innovation, research, and development, will be to the benefit of both countries," she said.
"I believe part of the Strategic Dialogue next week will be about how to strengthen confidence in the institutions of both governance and economics to ensure a level-playing field for businesses in both countries," she added.