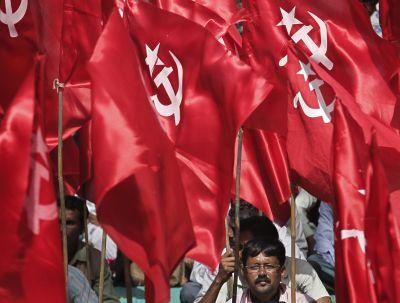 Pointing out that this is the first time that a complete alliance has been formed by the major Left parties in Bihar, the Communist Party of India state secretary Rajendra Prasad Singh said top Central leaders of the three parties will campaign together for the by-elections.
Singh also said that the Left alliance was the need of the hour as the policies of the Bharatiya Janata Party and the Janata Dal-United, the Rashtriya Janata Dal and the Congress were similar and exploitative for the masses.
Communist Party of India (Marxist–Leninist)) secretary Kunal described the alliance between the JD-U, the RJD and Congress as "opportunistic" as they have been fighting against each others all these years.
"The Left parties can neither be with the Congress nor with the BJP. Our socio-economic policies are opposed to both these parties, which indulge in exploiting the poor masses," Kunal said.
CPI state secretary Rajendra Prasad Singh said that the main aim of the Left alliance was to check the spread of the BJP in Bihar. The three Left parties which had contested the last assembly elections separately, had performed badly. Only the CPI had managed to win one seat from Sultanganj constituency in Bhagalpur district. The CPI and the CPI-M had contested the recent general elections with the JD-U, but drew a blank.
The coming of the three Left parties would try to make the by-polls a triangular contest against the BJP led National Democratic Alliance and the alliance of the JD-U, the RJD and the Congress.