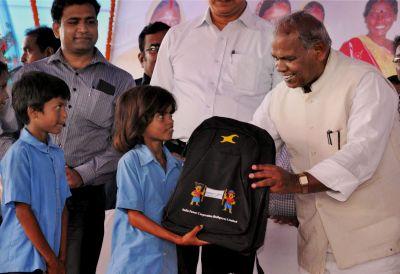 Bihar Chief Minister Jitan Ram Manjhi has initiated a move to develop his village Mahakar in Gaya district on lines of Kalyanbigha, the hometown of former CM Nitish Kumar and Rashtriya Janata Dal chief Lalu Prasad's Phulwaria.
A non-descript village, Mahakar is all set to get a taste of development. Kalyanbigha and Phulwaria are looked upon as epitome of progress because of their close connection with Nitish and Lalu.
"Manjhi is keen to develop his village into a model one," an official in the chief minister's office said.
During his visit to Mahakar over the weekend, the CM announced that the village would be accorded block status in Gaya district. An Industrial Training Institute will come up this financial year, he said.
A district official in Gaya said, "Manjhi has laid the foundation stone for a police station at his village and there is a plan to set up a power sub station." The proposed police station at Manjhi's village will be a well equipped with watch towers and officer quarters, the estimate of which is Rs 3.76 crore.
The 68-year-old Mahadalit, who was sworn in as the Bihar CM in May, began his life working as a shepherd. Manjhi, who is from the Mushahar community, paid for his education and went on to complete his graduation.

Phulwari and Kalyanbigha were non-descript villages before Lalu and Nitish came to power.
But Lalu changed the face of Phulwari. He constructed a referral hospital, a block office and a magnificent temple of goddess Kali. Road and rail networks were established; water and electricity facilities were made available.
Similarly, thanks to Nitish, Kalyanbigha got concrete roads, a sewage system, drinking water tank, power sub-station, a community hall, an Industrial Training Institute, a primary healthcare centre and a national bank branch.

Image: Bihar CM Jitan Ram Manjhi givies chool bags to children at his village in Gaya on Sunday. Photograph: PTI