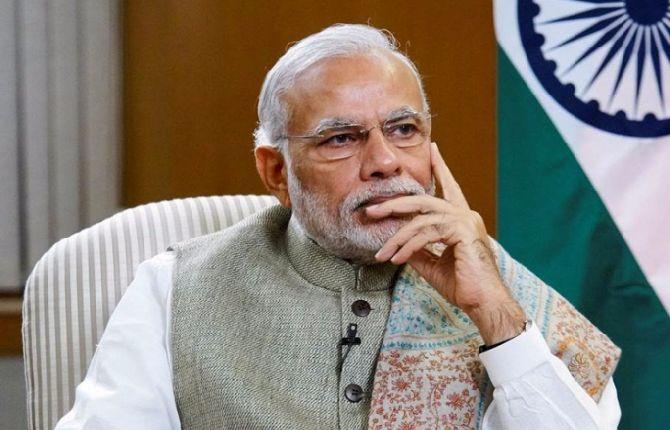 Virtually rejecting its chairman K V Thomas' view, the Public Accounts Committee of Parliament on Friday decided that Prime Minister Narendra Modi will not be called before it after Bharatiya Janata Party members strongly objected to the Congress leader's remarks that he may be asked to appear over the demonetisation issue.
The decision came after a storm was kicked up by the ruling party members on Thomas' statement earlier this week that the PAC can call the PM to depose on the note ban issue.
Referring to the speaker's directions related to the rules overseeing financial committees and those concerning calling prime minister/ministers, the committee said in a release, 'Ministers shall not be called before the Committee either to give evidence or consultation in connection with the examination of estimates of accounts.
'However, the chairperson, when considered necessary but after its deliberations are concluded, may have an informal interaction with the minister.'
BJP members including Nishikant Dubey, Bhupender Yadav, and Kirit Somaiya raised the issue of Thomas' statement and said the committee does not have powers to summon the PM.
Dubey had earlier written to the Lok Sabha speaker saying that Thomas' remark that Modi could be called to appear before it over the issue of demonetisation is 'wrong, unethical and against laid out Parliamentary procedures'.
In the meeting, Thomas is believed to have clarified that what he meant was that the Committee can summon the prime minister if it takes a unanimous decision and cautioned against 'killing the institution'.
The statement said officials may be called to give evidence in connection with the examination of estimates and accounts relating to particular ministries as per the existing rules but not prime minister or ministers.
During the United Progressive Alliance government too, the then PAC chairperson Murli Manohar Joshi's decision to summon the then prime minister Manmohan Singh in connection with the 2G scam had triggered a massive row with Congress members strongly objecting to it.
Joshi was overruled as the ruling coalition enjoyed a majority in the committee.