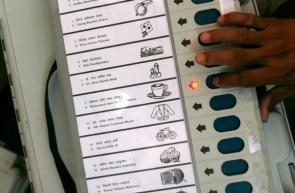 If the Aam Aadmi Party made an impressive debut in Indian politics in Delhi, so did the 'None of the Above' option in Rajasthan.
A detailed analysis of the voting trends in Rajasthan has revealed that it was not only the pro-Bharatiya Janata Party wave that triggered the desert storm that swept away Ashok Gehlot's Congress government.
Two ministers in Gehlot's cabinet fell victim to NOTA, which was introduced by the Election Commission after a directive by the Supreme Court earlier this year.
In Rajasthan, nearly 1.92 per cent (588,391) voters pressed the NOTA button, reveals the voting trend.
In three constituencies, more voters opted for NOTA than an actual candidate, making three stalwarts of Rajasthan politics bleed.
Food and Civil Supply Minister Parsadi Lal Meena lost by a margin of 491 votes in his constituency Lalsot, where 3,963 voters opted for NOTA.
Sports and Youth Affairs Minister Mangilal Grasia lost by 3,345 votes in his constituency Gogunda, where as many as 5,893 voters opted for NOTA.
Even the victorious BJP felt the after-effects of NOTA.
Party stalwart Devi Singh Bhati lost from Kolayat, a constituency he had represented for 35 years, by 1,134 votes.
He just might have won if the 2,951 voters who opted for NOTA in his constituency had chosen to vote for him.
The NOTA option was used the most at Bagidora constituency, where 7,255 voters chose it, while the voters in Kama constituency seemed to be the most satisfied with their candidates, as only 349 voters opted for it.
The lack of corruption-free leaders from the BJP, the Congress and debutant Nationalist People's Party forced voters to opt for NOTA.
"Because of lack of options, two per cent of the total votes were cast for NOTA. Unlike Delhi, people here didn't have an alternative option like AAP," said Mulkraj Singh, the district secretary of AAP, Jaipur.